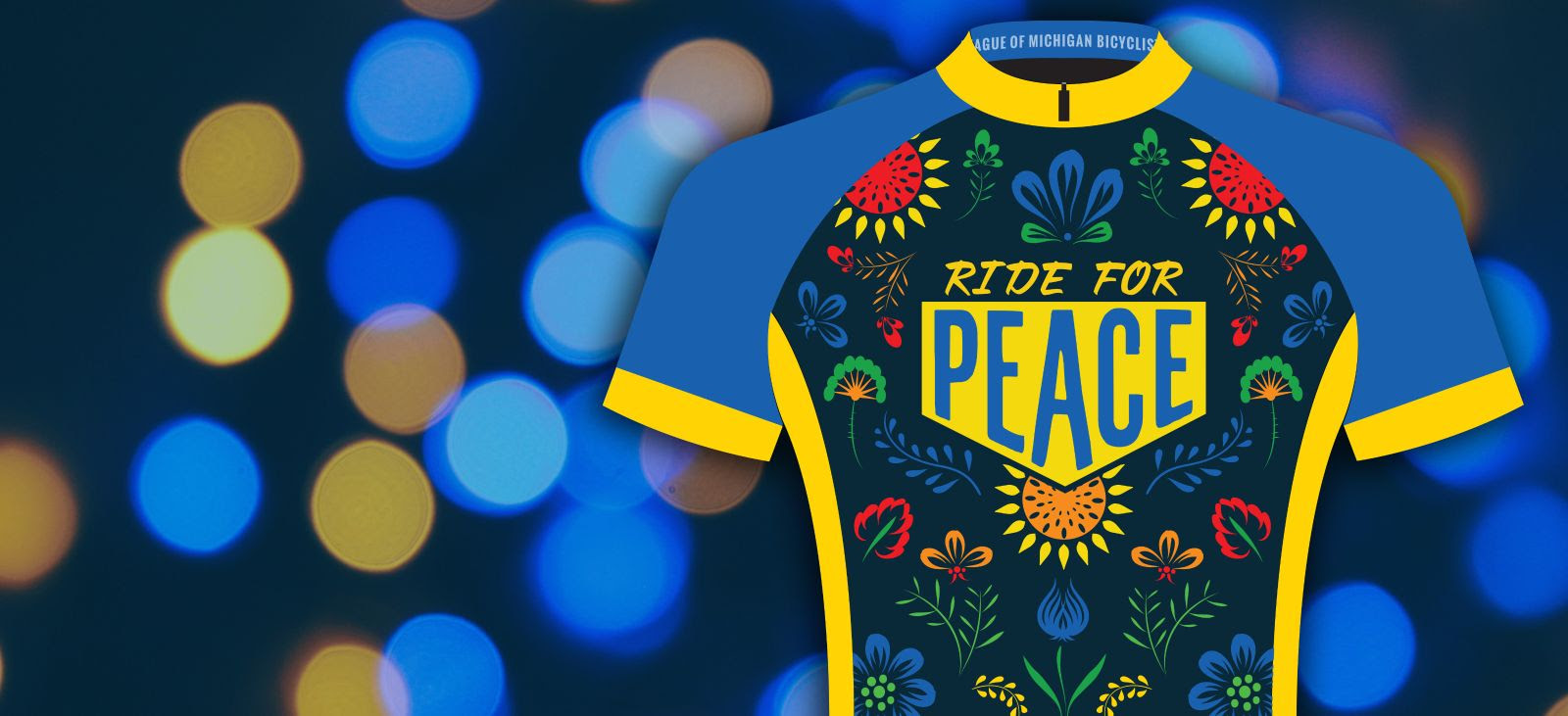 As everyone well knows at this point, Ukraine is struggling with a huge humanitarian and refugee crisis. In response, the League of Michigan Bicyclists has ridden onto the scene with their most recent charity effort: Ride for Peace.
The Ride for Peace effort revolves around selling riding jerseys, pictured below, to raise money for the World Central Kitchen to directly provide food to families displaced by or fleeing the war that's still going on. Despite the fact that we can't do anything to directly impact the war, we can all contribute in our own ways - even from the safety of our own homes, roads, and trails. The WCK (World Central Kitchen) is currently providing food to Lviv, Zaporizhzhia, Kramatorsk, Odesa, Kharkiv, Irpin, Bucha, and surrounding countries. As of Monday, April 11, the LMB (League of Michigan Bicyclists) has raised over $65,000. That's an incredible sum of money!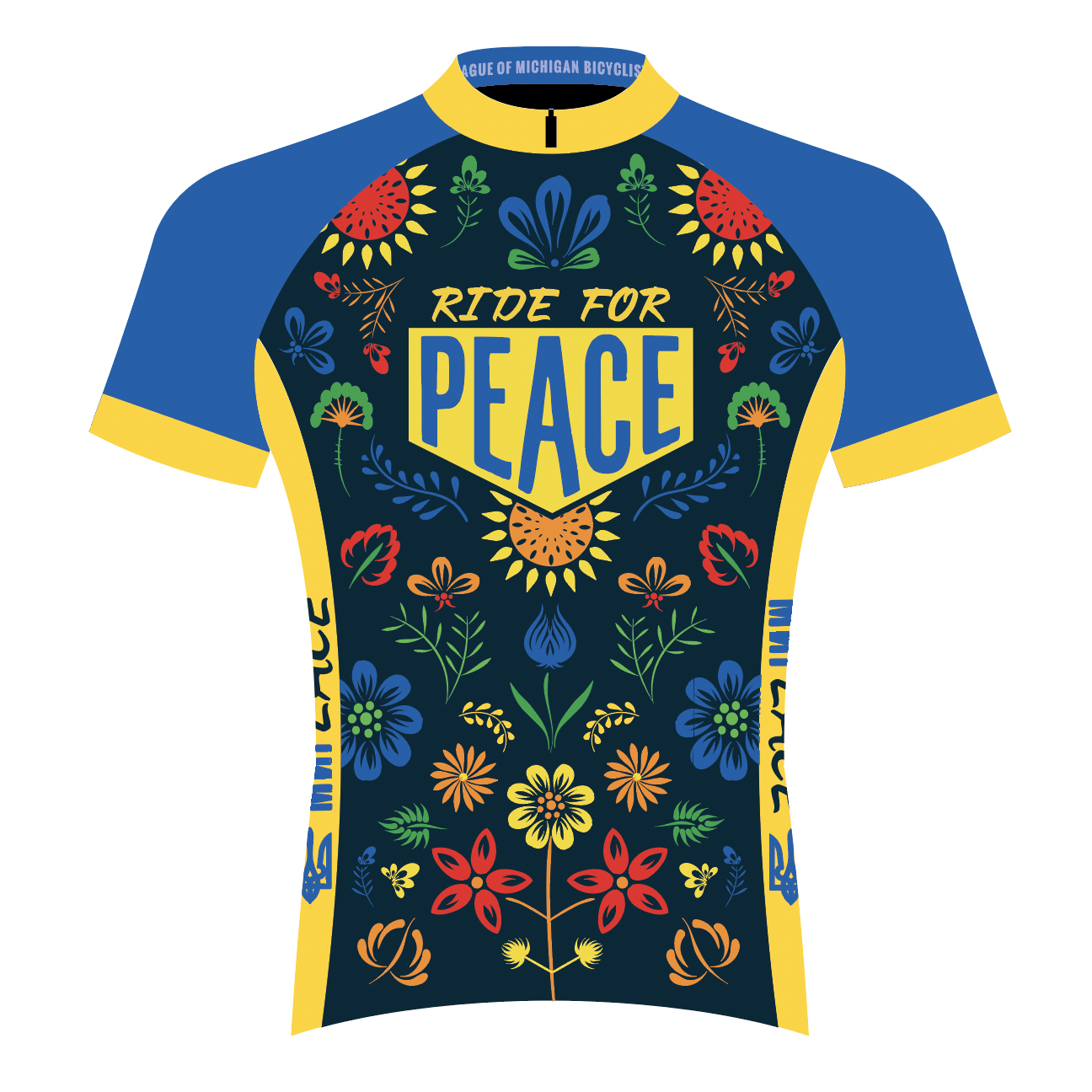 There are two ways to partake in the Ride for Peace: either order the jersey directly online or earn a free jersey by fundraising $250 USD yourself. 66% of funds go directly to the WCK to distribute meals, food, and fiscal aid to kitchens supplying refugees. With spring around the corner, you need a new jersey anyways and what better way to support someone going through something the rest of us likely can't even fathom?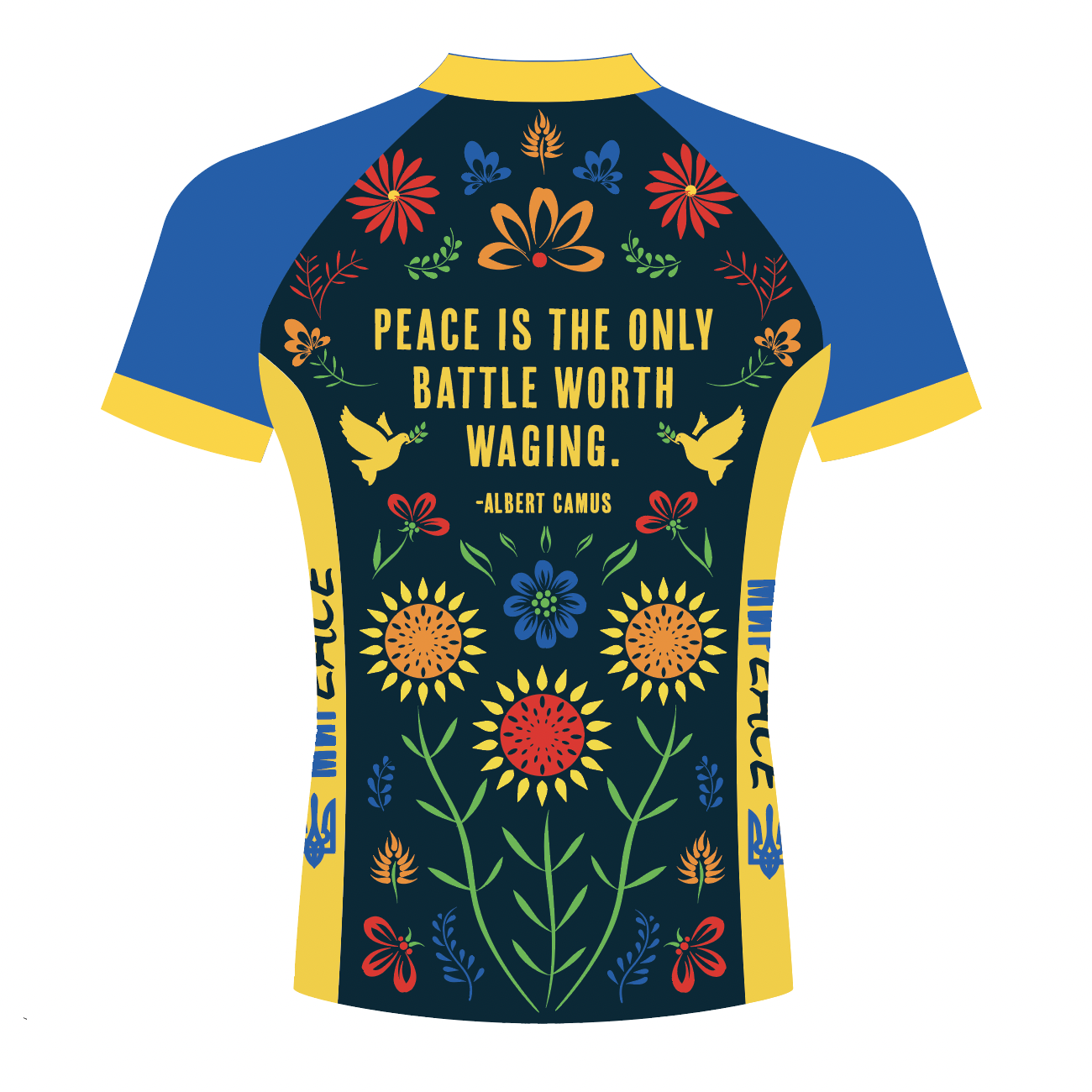 You can purchase a jersey here or get info on the fundraising here. Please, if you're a cyclist in Michigan and want to help make a difference, consider donating and getting a gorgeous new jersey at the same time.
---
---
ARTIST STATEMENT
When I envision Ukrainian garments, I think of flowers: beautiful, flowy blouses covered in intricate daisies, poppy, and sunflowers, hand-embroidered in the brightest shades imaginable. I picture a flower crown braided from a captivating bouquet, resting above a long braided hairstyle. In my jersey design, I tried to mimic Ukrainian folk art and its abundant use of these elements. On the sides of the jersey, you will find the word мирeace. This is actually the word for peace in both Ukrainian – "мир" – and English – "peace" – merged into one. The jersey's collar also features a gold trident, the Ukrainian Coat of Arms and a symbol of protection. The deep azure on the sleeves and maize on the cuffs, borrowed from the Ukrainian flag, represent the country's calm blue skies and expansive wheat fields.Albert Camus' words on the back of the jersey speak for themselves — there is simply no territory or economic gain worth more than human life. For me, peace means safe living conditions for my grandmother and aunt. It means turning on the news and no longer seeing my family's country up in flames. It means feeling confident in my own future and that of mankind. Today, tomorrow, and every day that follows, I ride for peace.
– Zoya Shevchenko, Design and Communications Associate, LMB
ABOUT THE QUOTE
---
BUY A JERSEY
EARN A JERSEY
DONATE TO WCK
Recent Posts
As everyone well knows at this point, Ukraine is struggling with a huge humanitarian and refugee …

We're excited to announce that we are now a Serial 1 electric bike dealer! Serial 1 (Powered …

The Nomad is one of the newest e-bikes to grace Magnum's 2021 product line. The model is …