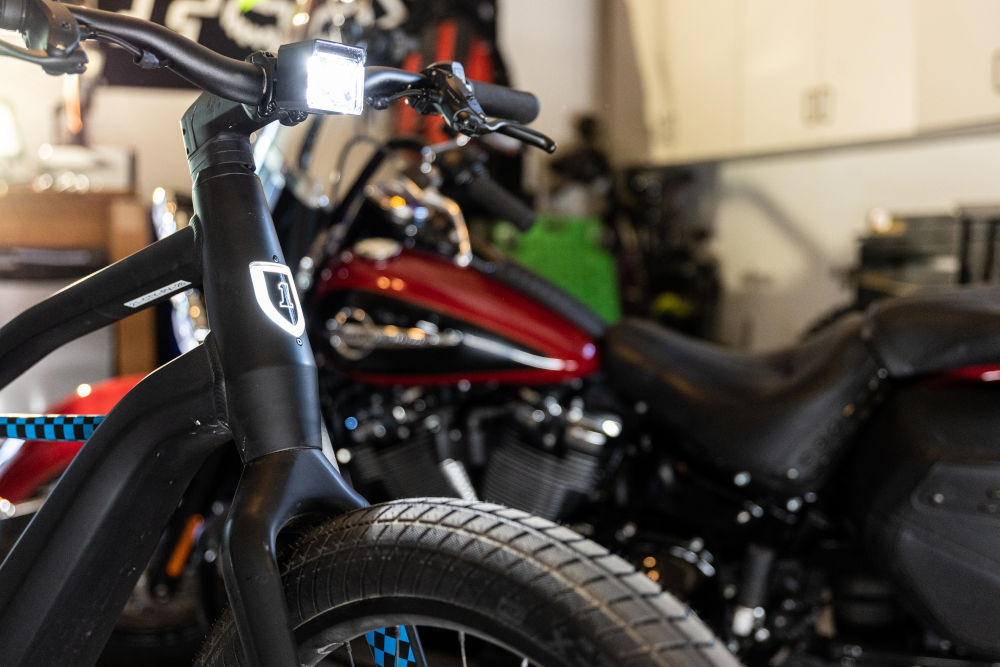 We're excited to announce that we are now a Serial 1 electric bike dealer!
Serial 1 (Powered by Harley Davidson) offer some of the hottest e-bikes on the market right now, and they're packed with a ton of premium features. We love them for their sleek design and intuitive ride style.
First Impressions
The notion for these bikes to arrive in our showroom was after we attended the CABDA Expo in Chicago. One ride and we were sold.
Let's be honest - the Serial 1 e-bikes feel like they are made for bicyclists. The Brose S MAG mid-drive motor is noticeable but doesn't feel punchy. Pair that with the Enviolo Automatiq shifting, and the bike feels so intuitive that you barely notice you're riding at 19 miles per hour. In a way, the bike rides like you're in a spin class - the faster or harder you're pedaling, the more assistance you're getting.
The internal cabling, headlights, integrated battery, and frame color make these bikes seamless and sexy. They hardly look like e-bikes, and anyone we put on the bike looked like they had been riding for years. This bike is built with purpose, and we can tell there is craftsmanship down to the most minute details.
We're geeking out about these bikes, and there is good reason for you to, too. It's nothing like we've tried before, and we're excited about the feedback we've received so far. So, come out for a test ride! Who knows? Maybe you'll be riding home on a Harley!
The Bikes
At first, we'll be stocking only a few of these models, so inventory will be limited. If you're interested in picking up one of these beauties, we suggest either placing a pre-order or putting your name on our wait list.
MOSH/CTY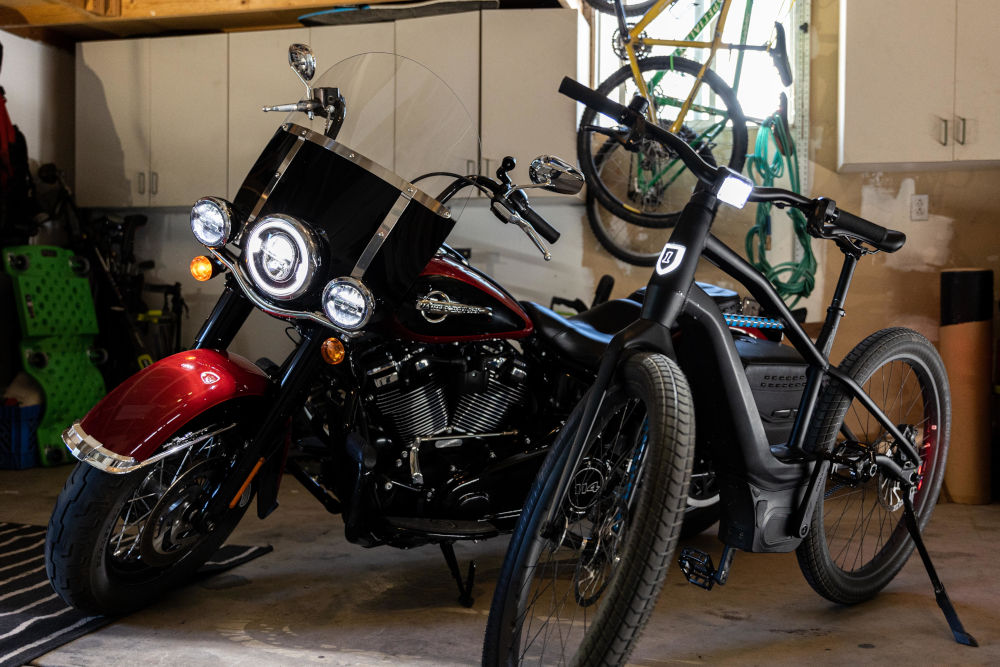 This urban dream of a bike will change your commutes. This quick, nimble bike will let you glide through traffic thanks to its flexible frame style and powerful Brose S MAG mid-drive. Wider 2.8" tires will give you plenty of tread and traction over less-than-smooth pathways, and the two-piston hydraulic disc brakes provide plenty of stopping power.
Motor Type: Brose S Mag. Brushless internal rotor, mid-drive mounting
Motor Power: 250W (continuous rated power)
Torque: 90Nm/66 ft. lb.
Battery: 529Wh, integrated, removable
Range: 35-105 miles – Depends on mode and terrain
Charge Time: 0-100% charge = 4.75hrs, 0-75% charge = 2.6hrs
Maximum Assistance Speed: 20 mph (US)/25 kph (EU)
Drivetrain: Single speed, freewheel
Final Drive: Gates Carbon Drive belt
Frame: Hydroformed aluminum, welded construction, internal routing
Fork: Aluminum
Brakes: Tektro hydraulic two-piston-caliper disc brakes front and rear, 203mm x 1.8mm rotors
Wheels: 27.5 x 35mm alloy rims and Sapim stainless steel spokes
Tires: Schwalbe Super Moto-X 27.5 x 2.8-inch
LED Front Lighting:

LED Headtube Shield Signature light
LED Headlight

LED Rear Lighting: Integrated tail lights with brake light
Rack: N/A
Fenders: N/A
Controller: Brose Display Remote
TFT Display: N/A
Digital Display: N/A. Available via Serial 1 App.
Frame Sizes: S, M, L, XL
Weight: 48.3 lb./21.9 kg (Size Large)
Color Options: Matte Black/Gloss Rowdy Blue; Matte Black/Gloss Midnight Black
RUSH/CTY
Offered in speed, step-over, and step-thru options, the Serial 1 RUSH/CTY is the premium e-bike. If you're looking for a classy frame style with a powerful punch of performance, the RUSH/CITY is the natural choice. Featured on this bike is the Enviolo Automatiq auto-shifting gear hub and Gates Carbon Drive belt, giving you the ultimate in responsive, maintenance-free riding.
RUSH/CTY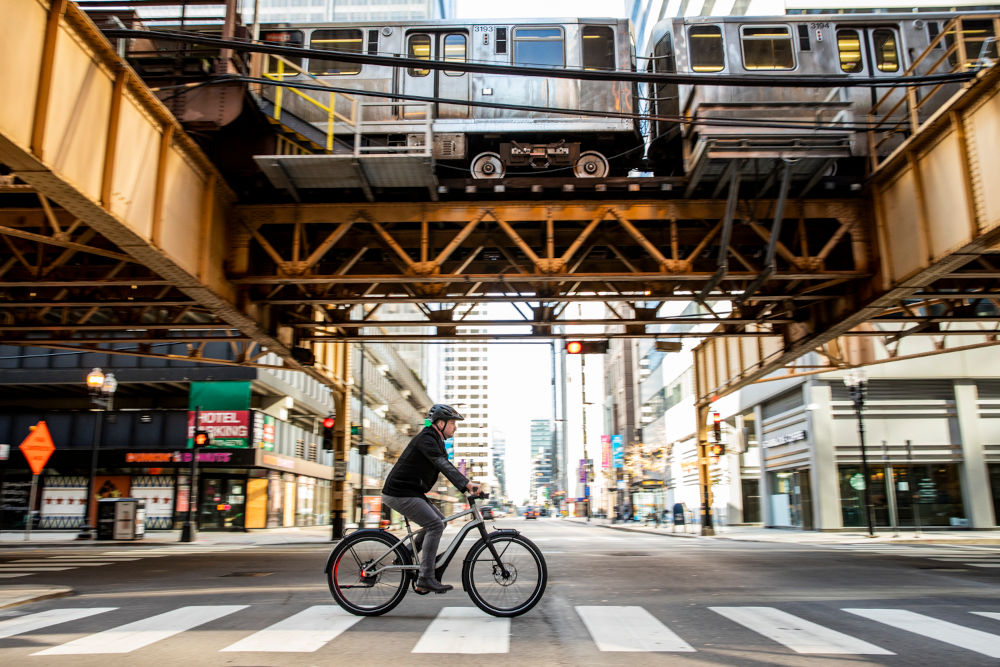 Motor Type: Brose S Mag, brushless internal rotor, mid-drive mounting
Motor Power: 250W (continuous rated power)
Torque: 90Nm/66 ft. lb.
Battery: 706Wh, integrated, removable
Range: 35-115 miles – Depends on mode and terrain
Charge Time: 0-100% = 6.6hrs, 0-75% = 3.5hrs
Maximum Assistance Speed: 20 mph (US)/25 kph (EU)
Drivetrain: Enviolo Automatiq intelligent auto-shifting hub
Final Drive: Gates Carbon Drive belt
Frame: Hydroformed aluminum, welded construction, internal routing
Fork: Aluminum
Brakes: Tektro hydraulic four-piston-caliper disc brakes front and rear, 203mm X 2.3mm "heavy-duty" rotors
Wheels: 27.5 x 35mm alloy rims and Sapim stainless steel spokes
Tires: Schwalbe Super Moto-X 27.5 x 2.4-inch
LED Front Lighting:

LED Headtube Shield Signature light
LED Headlight

LED Rear Lighting: Integrated taillights with brake light
Controller: Brose Display All-round
TFT Display: 1.5-inch, 240 x 240-pixel TFT display shows selected ride mode, current speed, odometer/trip meter, battery charge level, and headlamp on/off status at a glance.
Digital Display: Secondary will be available via Serial 1 App.
Storage Compartment: A lockable, 620 cubic-centimeter storage compartment provides a convenient place to stow a lock or other small items you might wish to take along for the ride. Dimensions: 206mm (length) X 42mm (height) X 70mm (wide).
Fenders: Integrated front and rear
Rack: Integrated front and rear
Rack Capacity: 10kg capacity each, front & rear racks
Frame Sizes: S, M, L, XL
Weight: 59.0 lb./26.8kg (Size Large)
Color Options: Matte Vapor Silver/Gloss Burst Orange/Matte Black; Gloss Midnight Black/Matte Black
RUSH/CTY Step Thru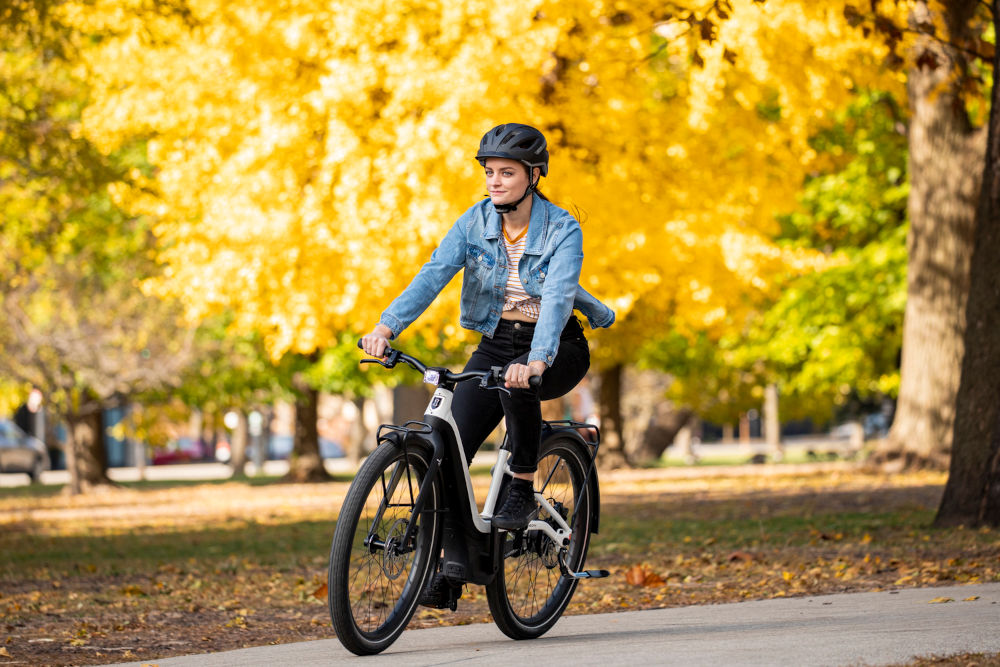 Motor Type: Brose S Mag, brushless internal rotor, mid-drive mounting
Motor Power: 250W (continuous rated power)
Torque: 90Nm/66 ft. lb.
Battery: 529Wh, integrated, removable
Range: 30-90 miles – Depends on mode and terrain
Charge Time: 0-100% charge = 4.75hrs, 0-75% charge = 2.6hrs
Maximum Assistance Speed: 20 mph (US)/25 kph (EU)
Drivetrain: Enviolo Automatiq intelligent auto-shifting hub
Final Drive: Gates Carbon Drive belt
Frame: Hydroformed aluminum, welded construction, internal routing
Fork: Aluminum
Brakes: Tektro hydraulic four-piston-caliper disc brakes front and rear, 203mm X 2.3mm "heavy-duty" rotors
Wheels: 27.5 x 35mm alloy rims and Sapim stainless steel spokes
Tires: Schwalbe Super Moto-X 27.5 x 2.4-inch
LED Front Lighting:

LED Headtube Shield Signature light
LED Headlight

LED Rear Lighting: Integrated taillights with brake light
Controller: Brose Display All-round
TFT Display: 1.5-inch, 240 x 240-pixel TFT display shows selected ride mode, current speed, odometer/trip meter, battery charge level, and headlamp on/off status at a glance.
Digital Display: Secondary display will be available via Serial 1 App.
Storage Compartment: A lockable, 620 cubic-centimeter storage compartment provides a convenient place to stow a lock or other small items you might wish to take along for the ride. Dimensions: 206mm (length) X 42mm (height) X 70mm (wide).
Fenders: Integrated front and rear
Rack: Integrated front and rear
Rack Capacity: 10kg capacity each, front & rear racks
Frame Sizes: S, M, L
Weight: 59.5 lb./27.0 kg (Size Medium)
Color Options: Gloss White/Gilded Denim/Matte Black; Gloss Midnight Black/Matte Black
RUSH/CTY Speed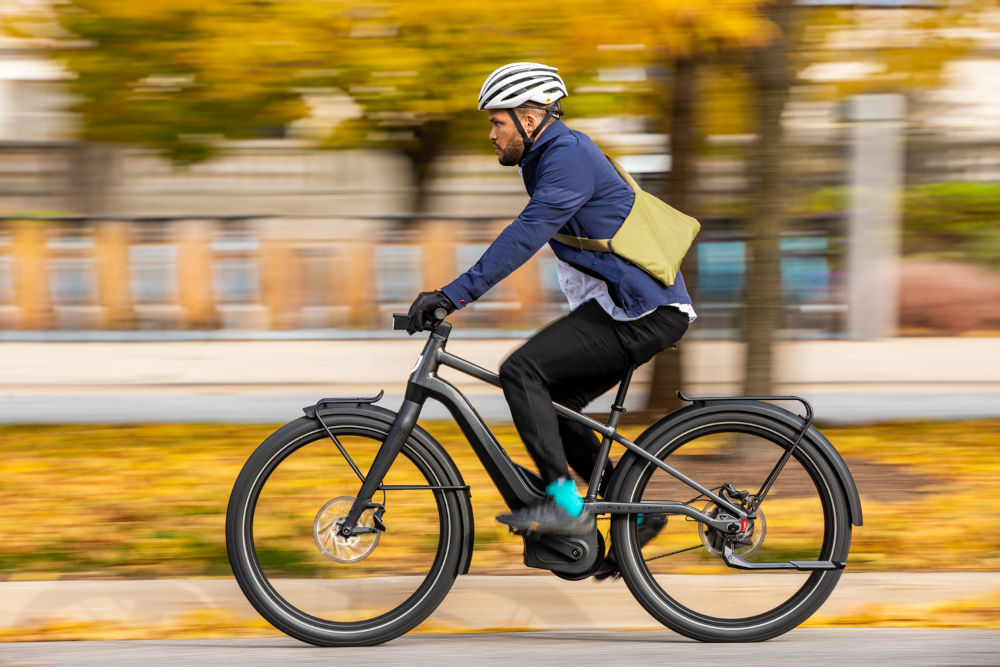 Motor Type: Brose TF Mag, brushless internal rotor, mid-drive mounting
Motor Power: 250W (continuous rated power)
Torque: 90Nm/66 ft. lb.
Battery: 706Wh, integrated, removable
Range: 25-115 miles – Depends on mode and terrain
Charge Time: 0-100% = 6.6hrs, 0-75% = 3.5hrs
Maximum Assistance Speed: 28 mph (US)/45 kph (EU)
Drivetrain: Enviolo Automatiq intelligent auto-shifting hub
Final Drive: Gates Carbon Drive belt
Frame: Hydroformed aluminum, welded construction, internal routing
Fork: Aluminum
Brakes: Hydraulic four-piston-caliper disc brakes front and rear, 203mm X 2.3mm "heavy-duty" rotors
Wheels: 27.5 x 35mm alloy rims and Sapim stainless steel spokes
Tires: Schwalbe Super Moto-X 27.5 x 2.4-inch
LED Front Lighting:

LED Headtube Shield Signature light
LED Headlight

LED Rear Lighting: Integrated taillights with brake light
Controller: Brose Display All-round
TFT Display: 1.5-inch, 240 x 240-pixel TFT display shows selected ride mode, current speed, odometer/trip meter, battery charge level, and headlamp on/off status at a glance.
Digital Display: Secondary display will be available via Serial 1 App.
Storage Compartment: A lockable, 620 cubic-centimeter storage compartment provides a convenient place to stow a lock or other small items you might wish to take along for the ride. Dimensions: 206mm (length) X 42mm (height) X 70mm (wide)
Fenders: Integrated front and rear
Rack: Integrated front and rear
Rack Capacity: 10kg capacity each, front & rear racks
Frame Sizes: S, M, L, XL
Weight: 59.0 lb./26.8kg (Size Large)
Color Options: Gloss IRIS Silver Lead Grey/Matte Black; Gloss Pearl Egret White/Matte Black
Recent Posts
As everyone well knows at this point, Ukraine is struggling with a huge humanitarian and refugee …

We're excited to announce that we are now a Serial 1 electric bike dealer! Serial 1 (Powered …

The Nomad is one of the newest e-bikes to grace Magnum's 2021 product line. The model is …