Stromer ST2 S Electric Bike Overview
Stromer is known for being the pinnacle of electric bike design: sleek, efficient, and innovative. These luxury bicycles feature longer distances (up to 110 miles), quieter motors, and more user capabilities. Now, you're probably thinking, "Isn't Stromer the ebike company that has a $10,000 bike?" Actually, it's $9,999, and yes. That bike is called the ST2 S, the big brother of the ST2, and what Stromer considers the creme de la creme of electric bicycles.
The ST2 model was created to get you powered quickly, to have a smooth ride, and to have one of the strongest batteries in the e-bike industry. Combine the ST2 with a new 22" Sport frame, an included battery that can travel up to 110 miles on a single charge, and Omni connectivity and you've got an electric bike that not only looks cool, but feels as if you're pedaling the future.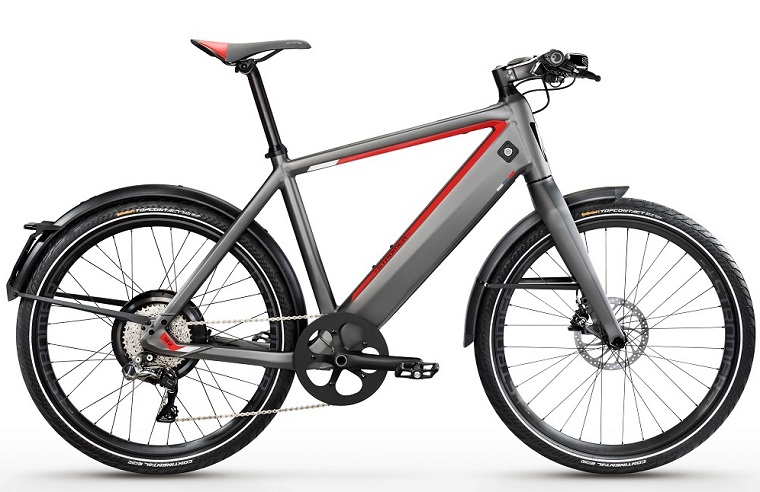 Stromer ST2 S Specs
| | |
| --- | --- |
| Frame Colors | Grey |
| Fork | Stromer ST2 Carbon Fork |
| Brakes | Magura MT Next e / MT5 |
| Drivetrain | Shimano XTR Di2 | 11-speed |
| Crank | FSA | 52T |
| Rear Cogs | Shimano 11-40T |
| Headlight | Supernova M99 Pro |
| Rear Light | Supernova M99 Taillight |
| Daytime Running Light | Integrated Stromer daytime running light |
| Fenders | Stromer custom aluminum |
| Carriers | - |
| Tires | Continental Top Contact II | 26x2.0 |
| Saddle | Fi'zik Aliante R5 |
| Connectivity | Yes - synchronize w/ omni portal & app |
| Motor | Syno Drive |
| Supported Speed | Up to 28mph |
| Output | 500W |
| Torque | 40 Nm |
| Range | 40 - 110 mi |
| Battery | BQ983 |
| Energy | 983 Wh |
| Voltage | 48V |
| Weight | 11lbs |
Omni Connectivity
So, the ST2 S is capable of connecting with Omni. What does that mean? The Omni system has multiple features on this cloud-based app, including:
Anti-theft protection - you can lock your bicycle at any time; and, if someone starts to move your bicycle without your permission, the motor is instantly disabled, lights start flashing, and you'll receive a text about the incident. If your bike happens to be stolen, you can then track your bike with the GPS system in the app.
Service Records & Updating Your Bike - You can input any maintenance done on your Stromer electric bike, giving you the best possible support from your dealers as they are able to access your service records from the Dealer Portal. Also, your Stromer bike and the myStromer App will always be in sync, as there are automatic software updates.
Other services include being able to see your battery life, speed, and assistance level.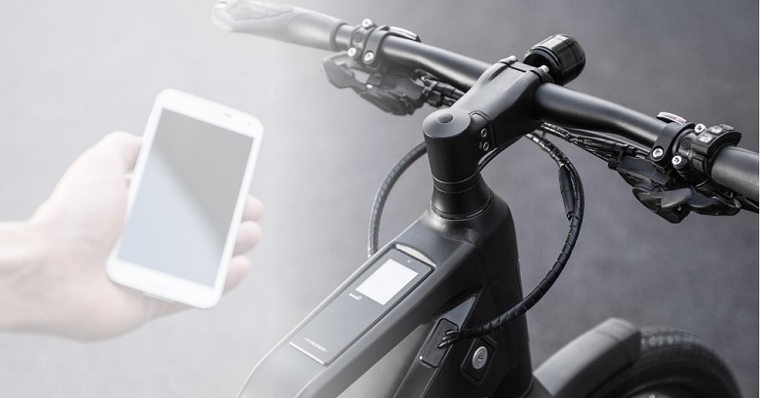 Safety Features
The brakes included with the ST2 S are from Magura and are designed for electric bikes. You'll be able to control your braking safely, even if you need sudden stops, all thanks to the four-piston Magura brakes.
The ST2 S also has increased safety when night riding thanks for the Supernova M99 front and rearlight. The M99 headlight is able to let riders see up to 380-feet away; not only is this light powerful, but it's also efficient as there are multiple modes to save draining your battery. This 1,600-lumen high beam is similar to a car's headlights, so not only will you be able to see better than common low beam headlights, but other vehicles will also be able to see you better.
Think you'll need to be shifting gears on a regular basis? You won't have to deal with clunky gears shifting; instead, Stromer has integrated Shimano's Di2 electronic shifting system. This allows you to have an instant response and seamless shifting. This is perfect for both the Sport frame of the ST2 S, partly due to the Synchro Shift on the Di2 system. Riders will be able to shift both the front and rear derailleurs. This allows you to shift quickly, and you're able to program simultaneous gear shifts to maintain your ride.
The tires included with the ST2 S are Continental Top Contact || tires. These tires are designed for mixed and gravel surfaces. This all-around tire has a pronounced central thread that will let you corner turns safely. Plus, you'll be able to take these tires over large surfaces and uneven terrain without worrying about a flat because of the Vectran puncture protection insert.
So, there you have it, a brief overview of the Stromer ST2 S electric bike. Similar to Stromer, we pride ourselves in carrying quality products that will let you have fun; and, by the looks of it, the ST2 S is going to let you do just that.
Recent Posts
Electric bikes are rising in popularity fast in the united states. With their new popularity many pe …

So you're thinking about getting an electric bike to improve your health? We all know regular exerci …

So you're ready to pull the trigger. You've been dreaming of hitting the open road an exploring your …