So you're ready to pull the trigger. You've been dreaming of hitting the open road an exploring your state, the country or maybe just driving to a warm getaway for the winter. For many, exploring in an RV is a lifestyle that's been lifelong dream and now you're one of the lucky few about to embarque on your own journey.
If you're reading this blog, chances are you are looking for an alternative vehicle to use on your adventures. Depending on your plans, you might need it for necessity, recreation or likely both.
Transitioning into the RV lifestyle comes with some small challenges and great rewards for the committed. Many of those challenges revolve around alternate transportation and recreation. Here are 4 great reasons to incorporate an electric bicycle into your plan and your new healthier happier lifestyle.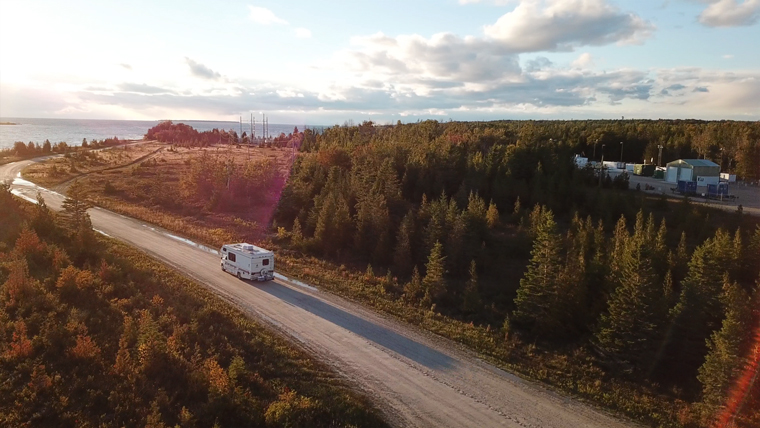 Exploring in an RV is a dream for many
---
1) Exploring
Let's face it, there are some places you can't go in your RV or potentially places that are better left experienced in the elements on your quiet electric bicycle.
You might park in a scenic park in the mountains with varying terrain. If there are lot of hills riding a normal bicycle would be out of the question unless you are extremely fit or you just enjoy pain! An electric bike is going to make exploration possible for just about anyone. Best of all, you can really cover some series miles on many different routes with only as much effort as you wish. Meaning fitness enthusiasts can really push it and cover some miles or an older couple could leisurely explore greater distances with minimum effort or some light exercise as they wish.
In fact, electric bikes are amazing as they allow average people to experience biking in the same way an accomplished athlete might. If you're already an athlete then it's much like having super strength and endurance.
There is an entire culture based around exploring off the beaten path routes and scenic views best experienced on a bicycle. Until recently, many of these paths were only available to cyclists in peak condition. With an electric bike, these adventures can be experienced by anyone in almost any condition.
If you're interested in exploring different road biking routes in the US I'm going to link another useful blog breaking down many different road cycling routes ranging. These range from hardcore to laid back. If you're feeling adventurous, add some of these to your travel itinerary After all, beyond your RV, there is only one better way to see our country. That is in on your bike in the fresh air experiencing elements.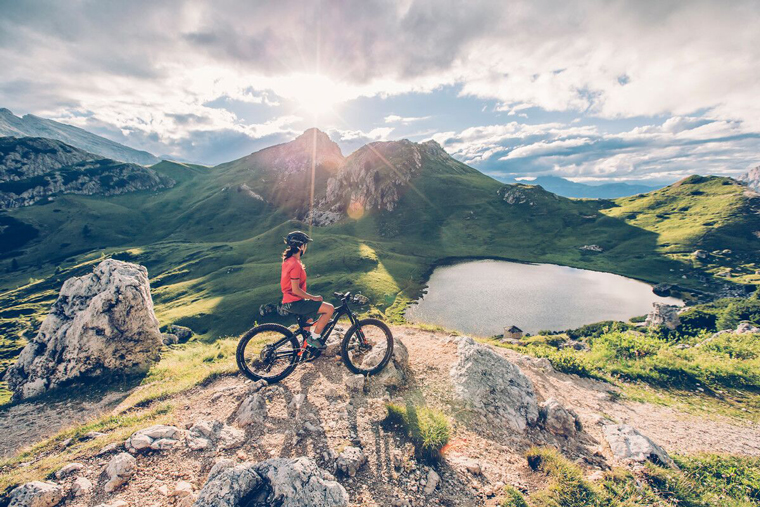 There are a great deal of cycling routes to be explored on and off the road
---
Maybe you aren't looking to do much exploring while traveling but you might want to once you've settled down at your destination. A electric bike would be useful to commute to or cruise the local beach. You could easily bike to various restaurants on the seafront and explore the nooks and crannies of coastal towns and communities.
It could be that you are staying at different campgrounds along your route. Having an electric bike makes commuting to the store or around the park convenient. Being able to go much further than a normal bike is particularly useful depending on where you stay. Many campgrounds are quite scenic as well. Whether they are nestled in the woods, a desert canyon or near the coast. An electric bike will give you and your family something fun to do while you're camping out. You could also explore some local amenities or extra curricular activities like ride to the golf course or surf break.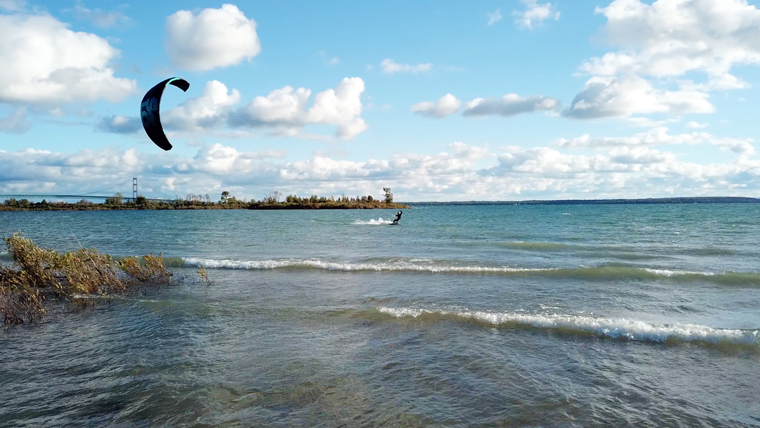 For us, using the RV to find perfect kitesurfing locations is about as good as life gets!
---
At the end of the day, RV life is about spending time outside with those closest to you. Recently, our shop picked up an RV. Often, the staff here has the opportunity to sign it out for weekend getaways or sometimes longer vacations. It's the perfect compliment to our outdoor biking and kitesurfing lifestyles. Some of the crew simply use the RV to go camping with friends or explore the small coastal communities along the coast of lake Michigan.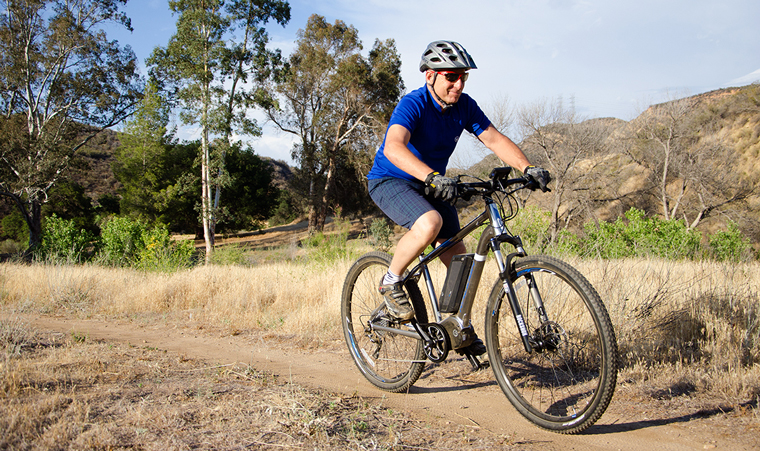 Exercise is key to our sense of well-being. Electric bikes are a fun way to add novelty to the routine
---
2) Exercise
Something else to consider about RV life is you're going to be doing a lot of sitting. I mean a lot! Not just you but your spouse or family as well. We all know exercise is essential to our wellbeing. We also know some exercise is more fun than others.
Electric bikes come in a variety of styles from beach cruisers to road bikes to actual mountain bikes. If you're not exactly an exercise enthusiast just having an electric bike for light exercise will help get the blood flowing and keep you feeling good on those long hauls. Taking even a small dailybreak to do some exploring or a short ride is going to do wonders for your state of mind and concentration on the road. If you're a foodie and you've been indulging on all the great food around the country. It's also nice to burn some extra calories after desert!
For those of you who love training Electric bikes open up a whole new world of possibilities. Not only can you travel great distances in shorter amounts of time while pushing it, you can commute to trail heads or routes that might be a bit off course for the RV.
Here's where it gets really fun. Many bike enthusiasts have a partner who doesn't exactly share their enthusiasm for biking or maybe they do but they lack the endurance or strength to keep up.
An electric bike evens the playing field allowing your partner or even your kids to keep up.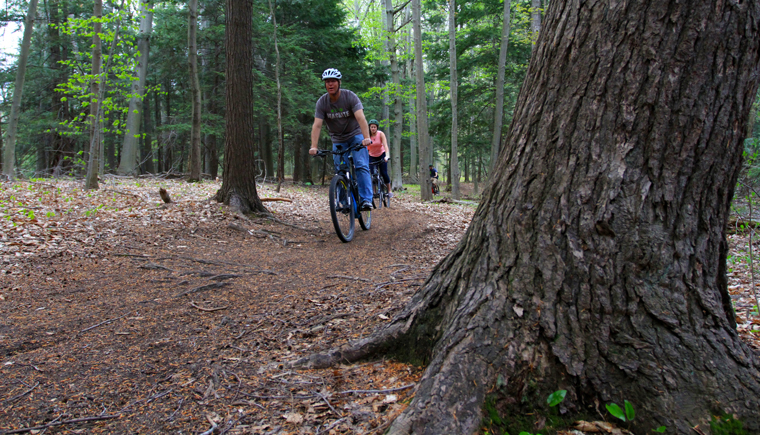 Electric bike place owner Steve Negen riding in the woods
---
3) Emergencies
Things happen. especially on long journeys. Now chances are you have a plan, or at least you should. More often that not, that plan means a phone to call for support and supplies to stay comfortable. In fact, it's almost always best to stay with the vehicle until help arrives. Now that said, their might be an instance where you run out of gas and the nearest station is only a mile or so away. It would be pretty convenient to simply ride your electric bike to the gas station to fill up a canister or make a quick phone call.
In another scenario, the RV could break down and be in the shop for a couple days. Having an electric bike to get around while staying in a hotel would be an invaluable tool. One that would save lots of money you might have used on Ubers and taxis.
Things happen along the way. Having an alternative hobby and means of exploring during down times can make all the difference. Especially if your trip is on a shorter time frame. For example, three days down time on a two-week excursion can make a big difference. Having an electric bike allows you to explore and have fun while waiting out repairs or other hold ups.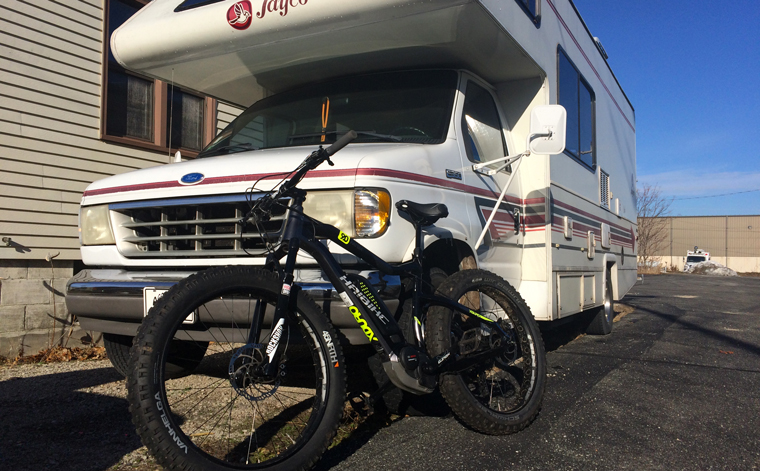 Electric bikes are the perfect companion for an RV trip
---
4) Having a mission
Chances are, if the idea of exploring the country in an RV lights you up. You know what it means to have a mission. Something to get excited about, something that equally brings challenge, adventure and it's due rewards. Traveling in an RV is only half the fun! Having goals or a great hobby to bring along on the trip adds an entirely new element to the journey.
Imagine not only having your road map laid out but incorporating different bike routes to explore, or a fitness plan that meets your needs along the way. Something that will bring adventure, joy health and longevity to your travels. Not to mention you'll have the opportunity to not only mingle with the RV community but the cycling and electric bike communities as well.
We all know having a sense of mission and community not only brings joy to life but often people who have a sense of purpose live longer more fruitful lives as well. More importantly, it's up to each of us to decide what that mission is, who our community is and how we'll spend the time we have. Finding ways to tie our hobbies and communities together make for a larger life, larger social circles and more opportunities for fun and adventure!
RV life is all about trying new things, experience places you've never seen, eating food you've never tried and moving on to a new chapter in your life. What better way to enhance the journey that to bring a new hobby, passion and sense of community along for the journey.
That's it for this week. 4 reasons to have an electric bike on your RV. Hopefully this article inspires you to get outside more and make your day what you want it to be.
If you're using an electric bike on your RV we'd love to hear about it! Send us a DM or photos on instagram and share your experience.
If you would like to lean more about electric bikes visit our store or just give us a call at 800 622 4655. Feel free to reach out to us on our live chat as well.
---
Ryan (Rygo) Goloversic
Avid lover of travel, fitness and the outdoor lifestyle.
He's a kitesurfer, video editor and professional writer. His mission is to inspire others to live a healthier happier more conscious lifestyle. Most importantly get active, get outside and live your best life.
Recent Posts
Electric bikes are rising in popularity fast in the united states. With their new popularity many pe …

So you're thinking about getting an electric bike to improve your health? We all know regular exerci …

So you're ready to pull the trigger. You've been dreaming of hitting the open road an exploring your …