A Haibike Review
It was a beautiful Monday afternoon, and us employees at MACkite were squirming in our plush office chairs (Jake Mitchell in a Herman Miller of course), dying to get outside and soak up those May rays of sunshine. As kiteboarders we have a hard time resisting the breezy blue skies when we see them. If only we had some excuse to temporarily set aside our office duties and finish off the Monday enjoying the great outdoors.
Almost as if our wishes had been granted, a massive black van, jam-packed with Haibike Performance demo bikes, coasted into the parking lot. We jumped with glee and raced outside to greet the Haibike sales rep. We couldn't wait to test out MACkite's latest line of electric bikes. Our eyes lit up like kids on Christmas morning, as bike after bike was wheeled out of the van. A fat-tire model immediately caught our group's attention, it's hunter green, camouflage exterior exuding mystery.
Although the fat-tire bike was a unique goliath, there were more practical, everyday options among the fleet. After testing out the hybrid commuter, we were sure it would make the perfect to and from work transportation, especially for big-city dwellers. A thin and nimble road bike cruised effortlessly over the pavement. It's sleek build and epic speed made for an ideal road race bike. However, it was Haibike's classic Mountain Bike that appeared to have the most versatility among the group.
Not only was it able to ride smoothly on the roads, but it was also able to tackle the bumps that accompany off-road riding.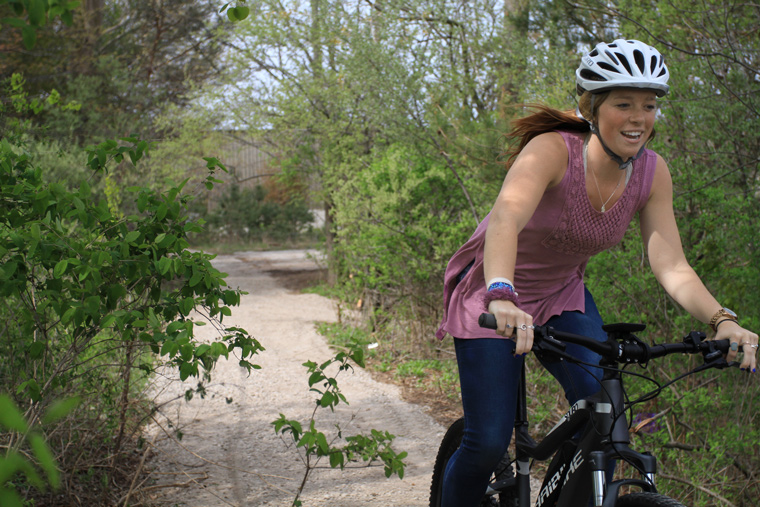 We took the bikes for a spin on our recently created gravel track (The "MAC Track") behind the shop. Lap after lap, we tore up the track; racing, jumping and sliding like the adult children we are. We were immediately impressed with Haibike's power, class and durability.
We were also able to check out some trails near the shop. Traveling to a local park, we found some single track spots where we further experimented with the new toys. It was here that the fat-tire bike found it's niche. The 4 inch tire width allowed this bike to plow through sand and over roots with ease. With the added power, we were able to propel up and over obstacles we otherwise would not have been able to tackle.
Being the only girl among the group, I realized that while riding a Haibike I could finally keep up with the boys. While I'm typically left in the dust during trips like these, I found I was keeping pace with them easily. Not only could I keep up, but I also saw the potential in taking longer trips, without getting tired as quickly. Haibike opened up multiple benefits and improvements for my riding.
Being the only girl among the group, I realized that while riding a Haibike I could finally keep up with the boys.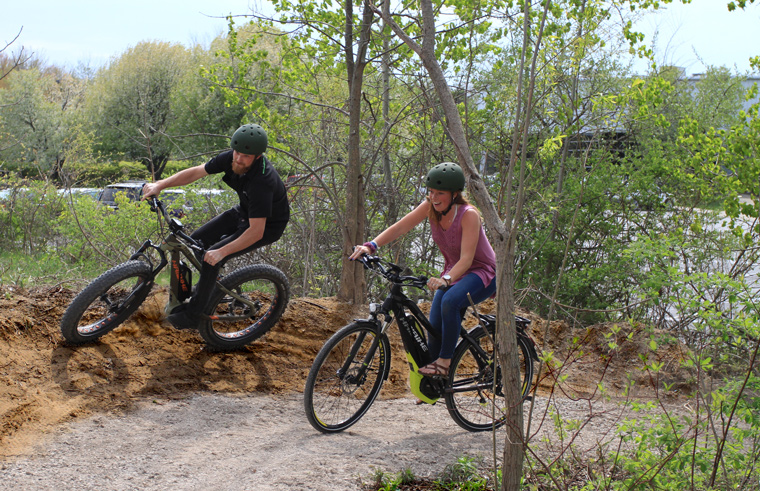 One of the coolest features of the bikes, was the fact that the battery could be removed. Although these toys were propelled with battery power, the average customer would never know this upon first sight. The brakes and gears were operated just like a regular bike. However, good-old-fashioned manpower was depleted the minute the e-bike was turned on. Although riders were still putting in some work, the adjustable settings give an extra boost, ranging in power depending on how much or how little work riders want to do.
We had an awesome time riding these one-of-a-kind bikes, and we know you will too! Come on down to the shop today and test out a Haibike for yourself. We promise you won't be disappointed.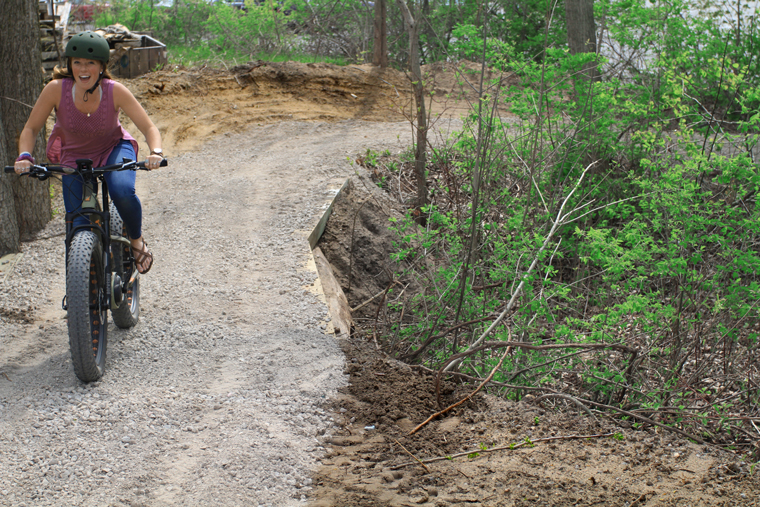 Recent Posts
As everyone well knows at this point, Ukraine is struggling with a huge humanitarian and refugee …

We're excited to announce that we are now a Serial 1 electric bike dealer! Serial 1 (Powered …

The Nomad is one of the newest e-bikes to grace Magnum's 2021 product line. The model is …