Pedego Latch Electric Bike: Overview, Review, and Specs
Pedego's Latch Overview Video
Pedego's Latch Video Transcription
The Pedego Latch is an electric folding bike like no other – it rides like a dream and easily folds in about 30 seconds.
Once it's folded a special clip holds everything together so it's easy to carry.
It can be supported by the seatpost or tipped over to rest on pads attached to the rear rack.
Unique to the Latch is a belt drive that delivers a seamless, quiet ride with no messy chain grease.
An internally geared hub provides easy pedaling and smooth shifting, and there's no derailleur to bend or break.
The most important part of every Pedego is the person riding it, and the Latch can easily be adjusted to comfortably fit people of all shapes and sizes. The upright riding position feels surprisingly like a full-sized bike.
Although it's designed to be compact and lightweight, the performance of the Latch leaves nothing to be desired. It's a real thrill to ride.
The state-of-the-art, geared motor gives you a sensation of power that's exhilarating!
The cutting edge, lithium battery is lightweight and long lasting with an industry leading three year warranty. It locks into place and quickly slides out to make the bike easier to carry.
Like all Pedegos, the Latch is designed with you in mind. It's fully loaded with user friendly features that make riding even more fun and practical. It includes:
A twist-and-go throttle for full power on demand
Five levels of pedal assist mode for a more natural riding experience
An LCD display with a USB charging port for you phone
Top of the line disk brakes that stop on a dime
Front and rear lights for your safety
Fenders and a chainguard to keep you clean and dry
And kevlar belted tires with self sealing tubes to help prevent flats
The Pedego latch will set you free - enabling you to travel in comfort and style wherever you may roam.
How to Fold the Pedego Latch - Video & Instructions by Pedego
The Pedego Latch is a foldable bicycle that can become as small as 33", which is perfect for any traveler. Pedego has offered simple directions on how to fold your electric bicycle, which can be done in as little as 30 seconds. Read more...
Pedego's Latch Specifications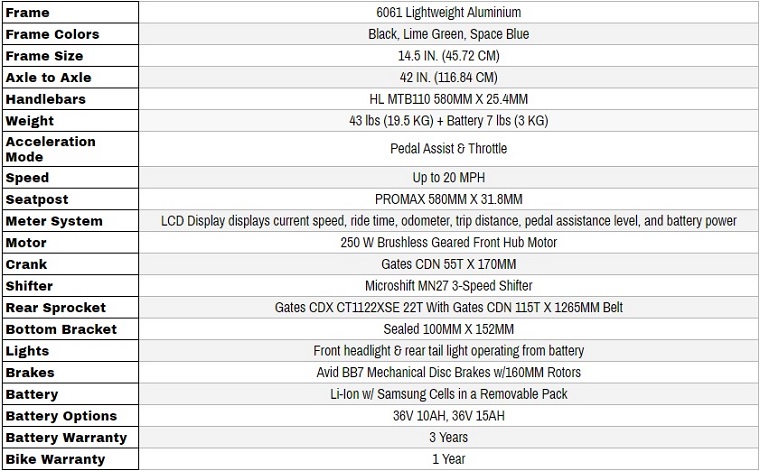 Pedego Latch Overview
The Pedego Latch electric bike is one that is not only stylish in its design but also functional, which is going to suit anyone who is looking for a manageable bicycle that they can put on the back of their truck, RV, or boat. Being able to fold down in 30-seconds, the Latch folds down to 31" x 26.75". The Latch is also one of the lighter bikes in Pedego's line, weighing in at 43-pounds for the frame and 7-pounds for the battery.
Available to the Latch ebike is both pedal assist and throttle. There are five levels of pedal assist and an overriding throttle. The included LCD monitor shows the level of assist as well as speed, odometer, trip distance, and battery power and comes standard with all bikes that have pedal assist. To change levels, press the (+) or (-) buttons on the monitor. For smaller riders, riders can set the max speed: hold "Set" for 2 seconds, press "Set 2" to set the maximum speed, and hold "Set" again for 2 seconds to confirm the setting.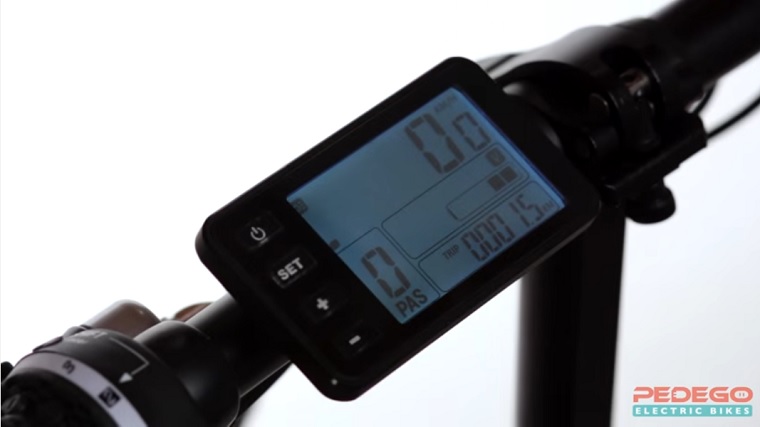 Another note, riders will notice that the gears are cased and shift internally; also, there is no metal chain but rather a belt drive. This provides a quiet ride without all of the messy chain grease. When riding, the fenders and chainguard will help keep the rider clean.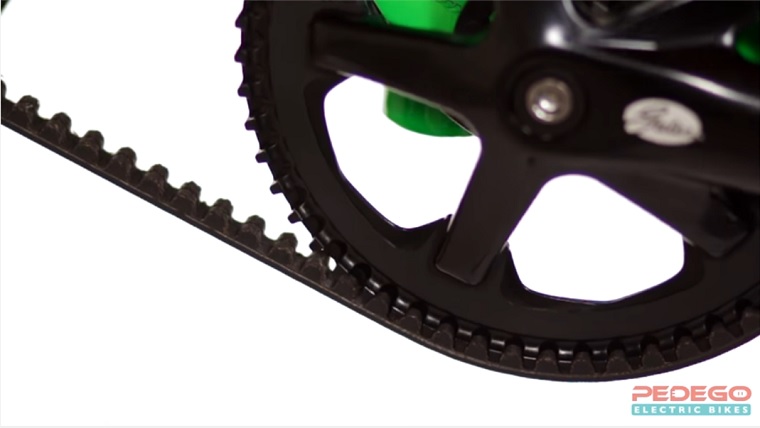 The Pedego Latch features mechanical Avid BB7 brakes. This is one of their standard brakes, and it's reliable in assisting quick stops, even in the wettest conditions.
Riders can choose between three colors: black, lime green, and space blue. Riders can also choose a 36V 10AH or 36V 15AH battery. The battery chosen will help determine the amount of distance traveled. The average distance for the 36V 10AH option is 15 - 30 miles whereas the average distance for the 36V 15AH battery is 22 - 45 miles.
Pedego Latch Staff Review
Based on previous experiences with similar foldable models, the Pedego Latch comes to the top for me for style, performance, and ease of folding.
When first looking at the Latch, I thought, "Is this really going to hold a grown person?" To me, it seemed like it was designed for children. Thankfully, the handlebars and long seatpost allow me to ride comfortably. The adjust-ability has helped quite a few of our crew to ride the Latch. The Aluminum frame is sturdy, and riding doesn't seem to put strain on the area that folds. (I've ridden foldable bikes before that seem to put more weight at the folding area rather than distributing throughout the bike. It's not a comfortable ride.)
Riding seems to feel similar to any other electric bike. I've found myself riding around West Michigan, almost absent-minded, with the ease of pedaling. If I ever want an extra burst of power, I use the throttle. I prefer riding electric bicycles that have both pedal assist and throttle, as it seems to be the best of both worlds rather than just focusing on one or the other.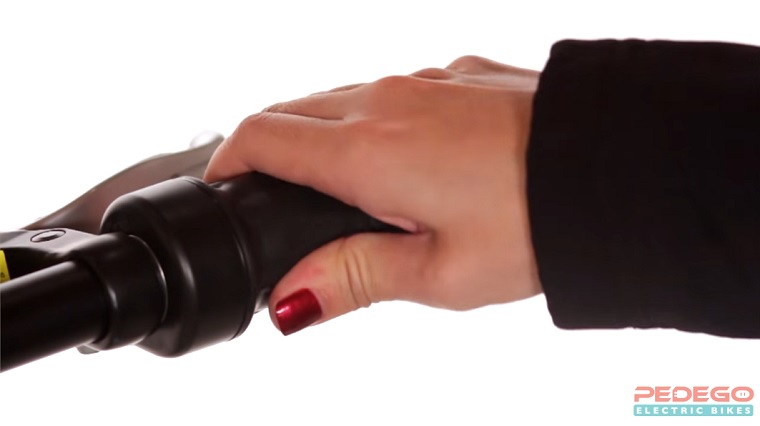 Our shop has the 36V 15AH battery option, which helps with the longer distances. Combined with the 250-watt brushless motor, the 36V seems to be a good companion for the Latch. The bike is perfect for getting you where you need to go, simply.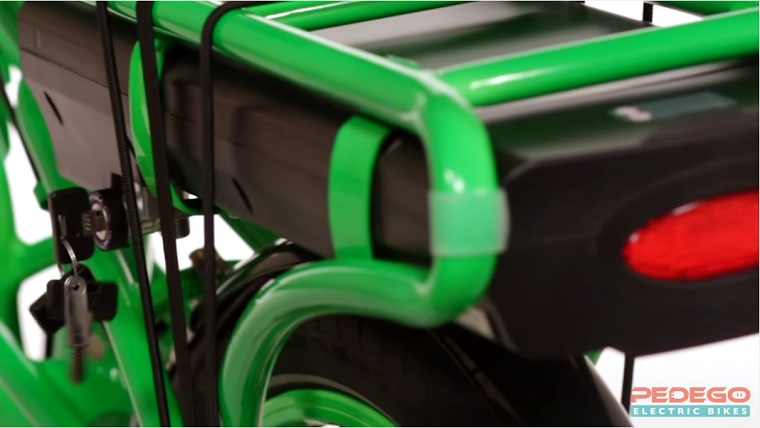 Riders will notice that the motor is in the front hub of the motor instead of the typical rear hub for Pedego electric bikes. Depending on the rider, it may feel more like a "pulling" sensation when using the motor rather than a more natural "push". The motor is 250-watt, which still allows the rider to zip around up to 20 miles per hour.
Overall, I would recommend the Pedego Latch to be an electric bike for anyone looking for an easy to use, simple design, that is going to be perfect for mini-adventures - such as grabbing a quick bite to eat off of the boat, or traveling the boardwalk, or enjoying the trails next to a campsite.
Recent Posts
Electric bikes are rising in popularity fast in the united states. With their new popularity many pe …

So you're thinking about getting an electric bike to improve your health? We all know regular exerci …

So you're ready to pull the trigger. You've been dreaming of hitting the open road an exploring your …