Pedego Interceptor Electric Bike: Overviews, Specs, & Reviews
Pedego's Interceptor Video
The Pedego Interceptor is the electric bike that has it all -- combining beach cruiser comfort and style with breathtaking performance and user friendly features.
The most important part of any Pedego is the person riding it, and the Interceptor is made to be the most comfortable electric bike on earth.
Cruiser-style frame geometry helps you enjoy a natural, upright riding position
Extra wide, swept back handlebars allow you to sit back and relax
And premium balloon tires give you a nice, smooth ride
Don't be deceived by the laid back beach back beach cruiser style, what really sets the Interceptor apart is it's supercharged performance. It's recognized worldwide as one of the most powerful electric bikes on the market, and it's just plain fun and exciting to ride.
A state of the art motor delivers best in class acceleration and hill climbing. The sensation of power it gives you is exhilarating.
The powerful 48 volt battery is lightweight and long lasting. It uses Samsung cells with cutting edge lithium-ion technology and an industry leading three year warranty.
The Interceptor is equipped with lots of convenient and practical features that make it even more useful and pleasant to ride. It includes:
A twist and go throttle for full power on demand
Five levels of pedal assist mode for a more natural riding experience
An LCD display with information about your ride and a built in USB charger for you phone
Front and rear lights for your safety
Top of the line disk brakes for powerful and reliable braking
Seven gears for easy pedaling
A sturdy rear rack to carry your stuff
Kevlar belted tires with self sealing tubes to help prevent flat tires
Optional fenders
And there's even a bell built right into the brake lever
In summary, the Pedego Interceptor is my personal favorite electric bike. It's what I like to ride. I believe it's hands down the greatest electric bike ever made. It just doesn't get any better than this.
Pedego Interceptor Specifications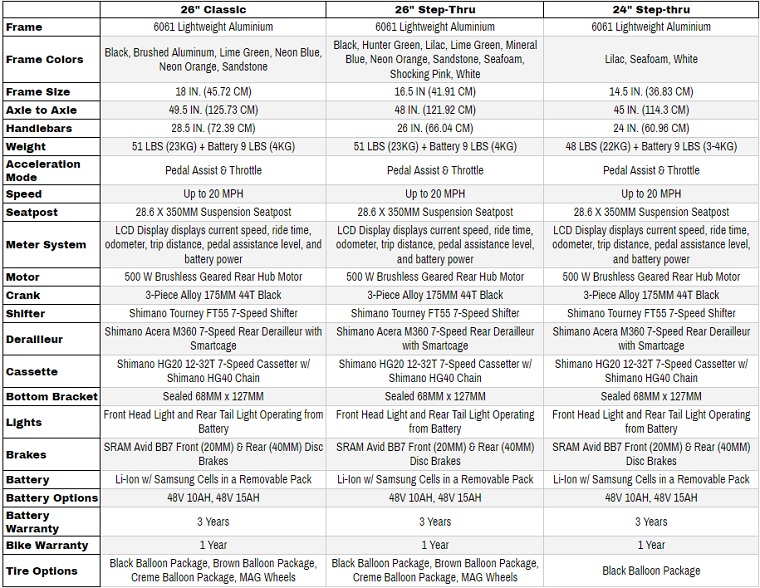 Pedego Interceptor Overview
The Pedego Interceptor is a classic beach cruiser design that focuses on comfort. This Pedego electric bicycle will intercept all previous thoughts on ebikes. (Get it?)
I consider the Interceptor the Batmobile of the Pedego line. This electric bike is packed with technical features, including a nive 48-volt battery and MAG wheels. Coming in five different frame colors, four tire options, three frame sizes, and two battery types, the Interceptor is just short of a full Christmas tune.
There are three frame sizes to choose from, making the Interceptor accessible for almost everyone. Those three sizes are a 24" step-thru, 26" step-thru, and 26" Classic. All three frame sizes offer five levels of pedal assist and a twist throttle. The 24" step-thru model will be great for anyone under 5'2", the 26" step-thru will fit comfortably for riders between 5'4" and 5'10", and the 26" Classic frame will fit anyone 5'8" and up.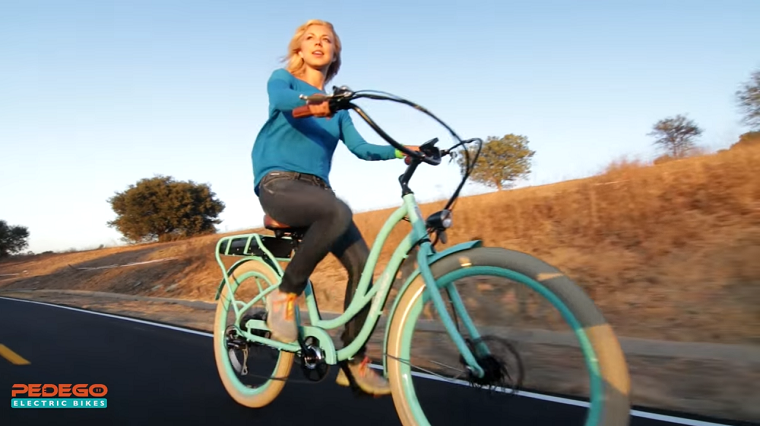 On all frames, the Interceptor has a deluxe saddle with a suspension seatpost as well as wider, swept back handlebars to give you a natural riding position.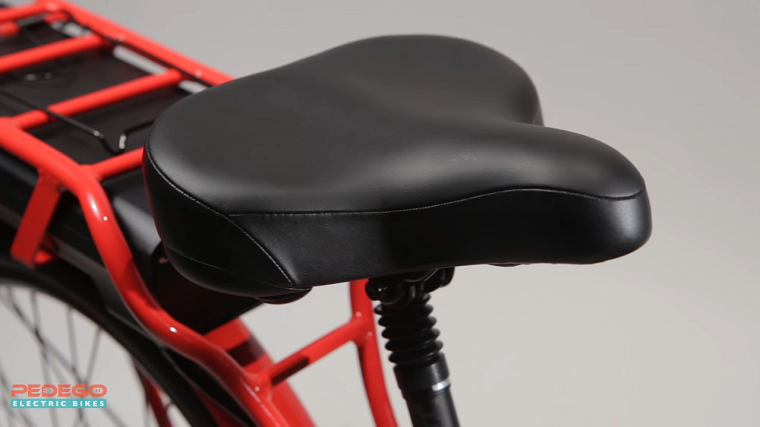 Premium balloon tires grace the Interceptor, allowing you a smoother ride thanks to the increased width.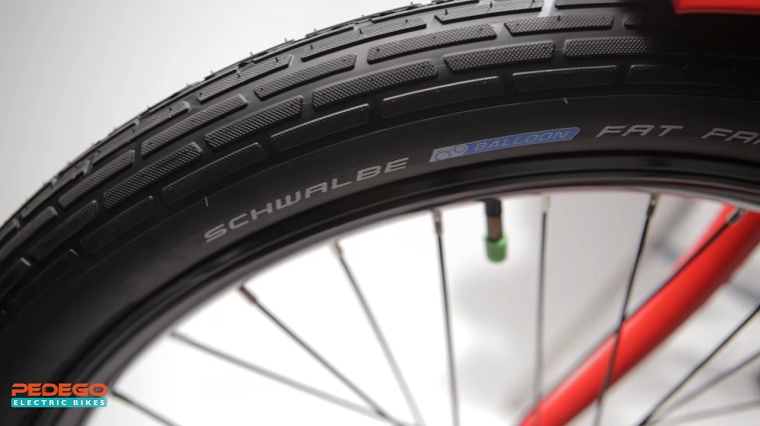 With the 48-volt battery, riders can choose either a 10- or 15-amperage. The 10-amp will be able to take you anywhere between 20 to 40 miles whereas the 15-amp will let you travel between 30 and 60 miles. Your battery's range will depend on the weather you're riding, terrain, assistance level, and speed at which you're biking.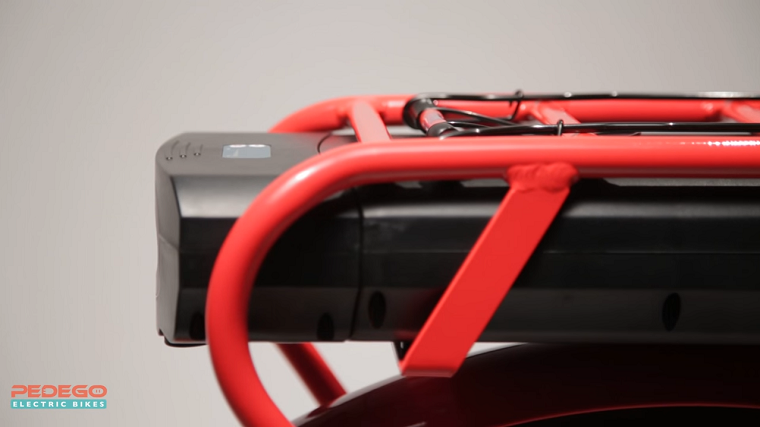 New to 2017, the Pedego line just released the Astin Martin of their line, the Platinum Interceptor. The Platinum Interceptor offers a 10-speed shifter, which will make riding easier at higher speeds.
As with all Pedego bicycles, they are equipped with SRAM brakes for powerful, consistent braking and Shimano gears to allow for seamless shifting without having to overthink.
Nathan's Review of the Pedego Interceptor
After a few weeks with the new Pedego Electric Bikes, I feel as if I'm able to provide a thorough review of the Interceptor - the super-charged beach cruiser. Comfort and performance rarely go hand-in-hand, but in the Interceptor's case, you'll find them nicely integrated.
The geometry encourages an upright and very comfortable riding position, regardless of your size. This year, we are using the 48V 15Ah setup with the Interceptor, and most definitely noticing the added range with the 15Ah battery.
The 500W motor has enough juice to climb any hill and accelerate quickly while still maintaining a smooth, controlled feel. On the cruiser bikes, I do enjoy having the option of pedal assist and throttle. The pedal assist on the Interceptor is smooth and intuitive, allowing you to really focus on the ride - something quite important while going 20 mph on a cruiser bike!
The LCD features a USB charging port, which has come in quite handy when my phone battery is running low. When I ended up staying a bit too late at work one night, the lights came in quite handy on my commute home. They are plenty bright and added another level of comfort and safety.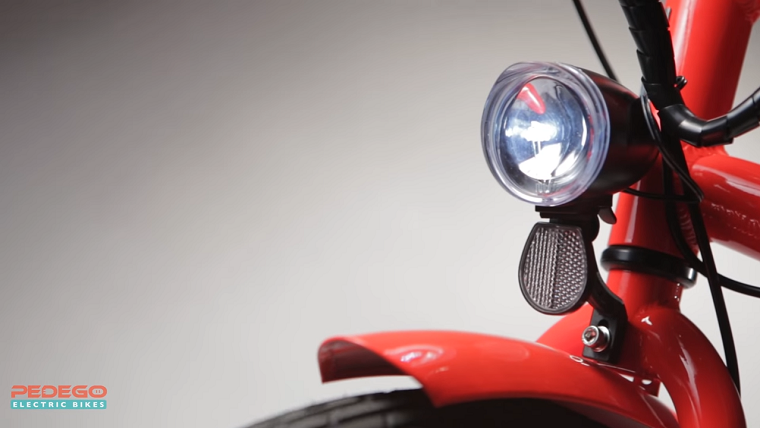 Of all the bikes in this category in the shop, the Interceptor electric bike takes the cake with its comfort and performance.
Jake's Review of the Pedego Classic Interceptor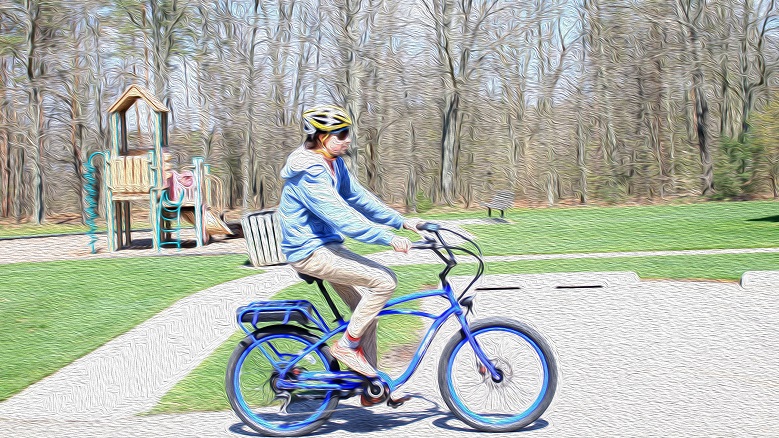 About two weeks ago we received our first shipment of Pedego electric bikes. Having used the Prodecotech models over the past few months, I was quite curious how an e-bike with pedal assist would differ from those models with throttle. The first Pedego bike to enter our demo fleet was the Classic Interceptor. A Michigan State Police blue with big, bowed out handlebars, the Interceptor feels imposing - like you're riding the king of beach cruisers. Read more here...
Recent Posts
As everyone well knows at this point, Ukraine is struggling with a huge humanitarian and refugee …

We're excited to announce that we are now a Serial 1 electric bike dealer! Serial 1 (Powered …

The Nomad is one of the newest e-bikes to grace Magnum's 2021 product line. The model is …