Pedego City Commuter Videos & Overview
Pedego's Product Video & Transcription
The Pedego City Commuter is the complete package with everything you could possibly want in an electric bike -- all in one place for a reasonable price.
The most important part of any Pedego is the person riding it, and the City Commuter was created with your comfort in mind.
Unique to the City Commuter is quick release handlebar stem that allows you to easily make adjustments for a perfect fit.
Traditional city style handlebars feel natural and familiar.
A soft, luxurious saddle with a suspension seat post provides plenty of cushioning where it matters most
And premium balloon tires give you a nice, smooth ride
While it's nice to be comfortable, what really sets the City Commuter apart is it's supercharged performance. It can climb hills like nobody's business, cover plenty of distance, and it's just plain fun and exciting to ride.
A state of the art motor delivers best in class acceleration and hill climbing. The sensation of power it gives you is exhilarating.
The battery is lightweight and long lasting. It uses Samsung cells with cutting edge lithium-ion technology and an industry leading three year warranty.
The City Commuter comes fully loaded with all the convenient and practical features that make a bike truly great. It includes:
A twist and go throttle for full power on demand
Five levels of pedal assist mode for a more natural riding experience
An LCD display with information about your ride and a built in USB charger for you phone
Front and rear lights for your safety
Top of the line disk brakes for powerful and reliable braking
Seven gears for easy pedaling
Fenders with mudflaps
A full coverage chain guard
A sturdy rear rack to carry your stuff
Kevlar belted tires with self sealing tubes to help prevent flat tires
And there's even a bell built right into the brake lever
In summary, the Pedego City Commuter is quickly becoming the world's best selling electric bike and it's easy to see why. It's widely considered to be the very best all around electric bike you can get -- for any price.
Electric Bike Place's Overview
Today, I want to chat about the Pedego City Commuter electric bike. This is my favorite bicycle of Pedego's line. The frame and handlebars pay tribute to the traditional biking style and with the 48-volt battery, the Pedego City Commuter is a fun, powerful ebike.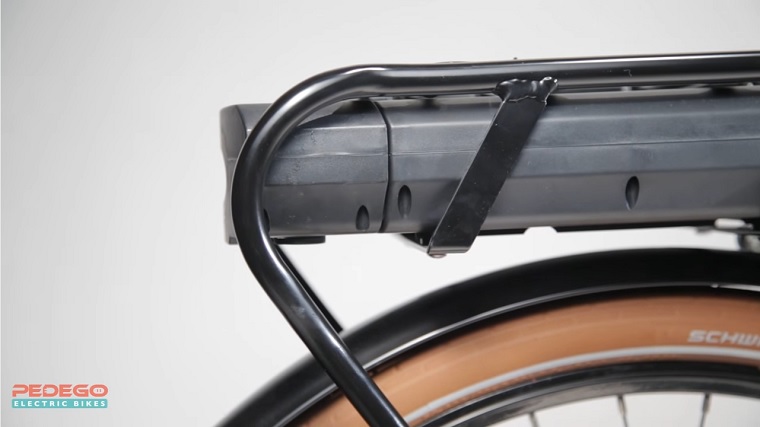 The City Commuter is designed for commuting...hence the name. The City Commuter offers features like fenders and covered guard chains to keep your clothes mud-free and dry.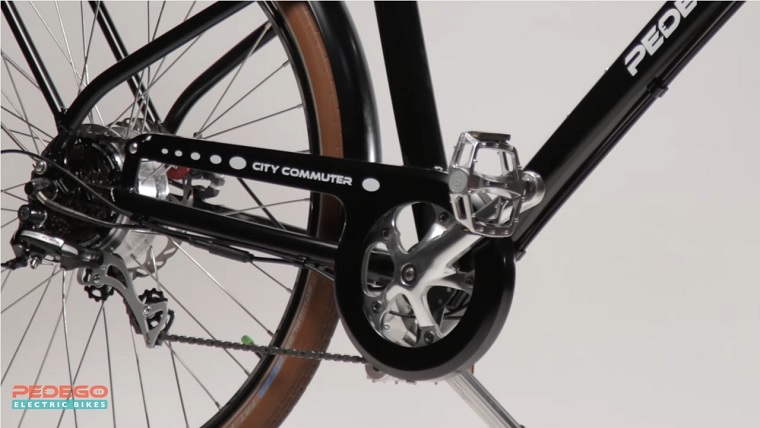 The City Commuter allows you to pedal more rigorously rather than give you that "cruiser" feeling - perfect for when you're running a little bit late to the office. And with its step-through and 26" or 28" frame options, commuting has never been so accessible to riders.
In this line, the City Commuter offers both throttle and pedal assist. The throttle will work well when you don't feel like pedaling or if you need quick spurts of full power.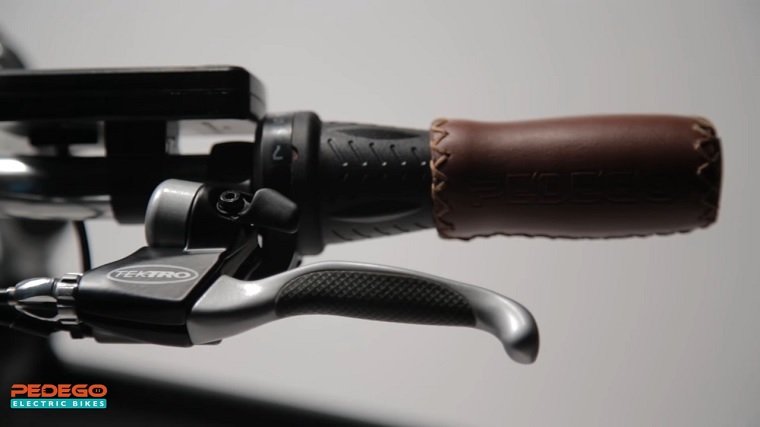 The pedal assist will most likely be your main option and you'll be able to be powered without having to think. There are five modes of pedal assist available. Level (1) will be the lowest, offering you less assistance. Level (5) will be the highest, offering you the most resistance. The amount of assistance you use, whether throttle or pedal assist, will affect your battery. Other factors that will affect your battery are speed, terrain, and weather.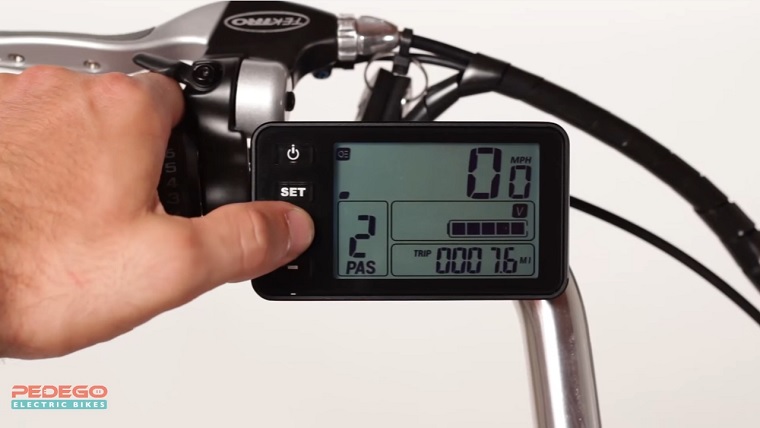 The City Commuter features a Shimano shifter for smooth gear changes and SRAM disc brakes for powerful, reliable braking.
The handlebars on the City Commuter ebike allow you to change your position. The adjustable stem lets you change the orientation and forwardness of the handlebars. With this feature, you'll be able to easily change both your riding style and position.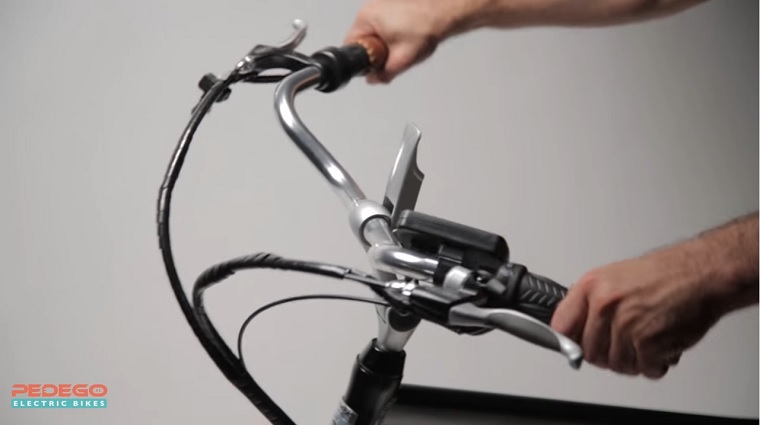 The tires on the City Commuter are more narrow than on other Pedego ebikes, at 2-inches. Since the City Commuter can be ridden more vigorously than other models, the narrower tires make it a little easier to accelerate and create a more lively bicycle.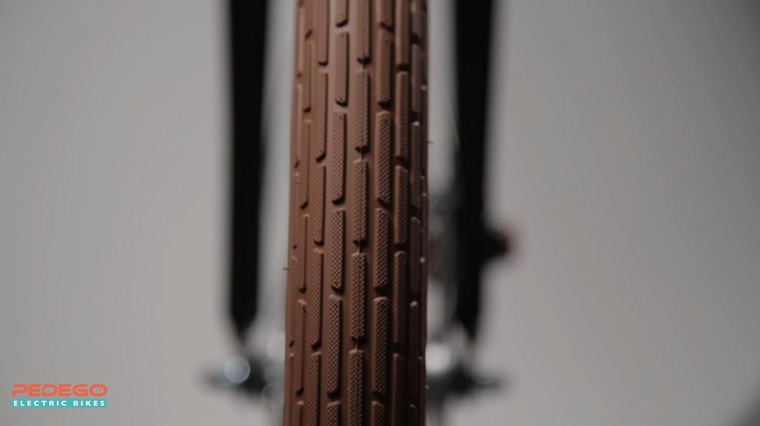 Pedego's City Commuter Specifications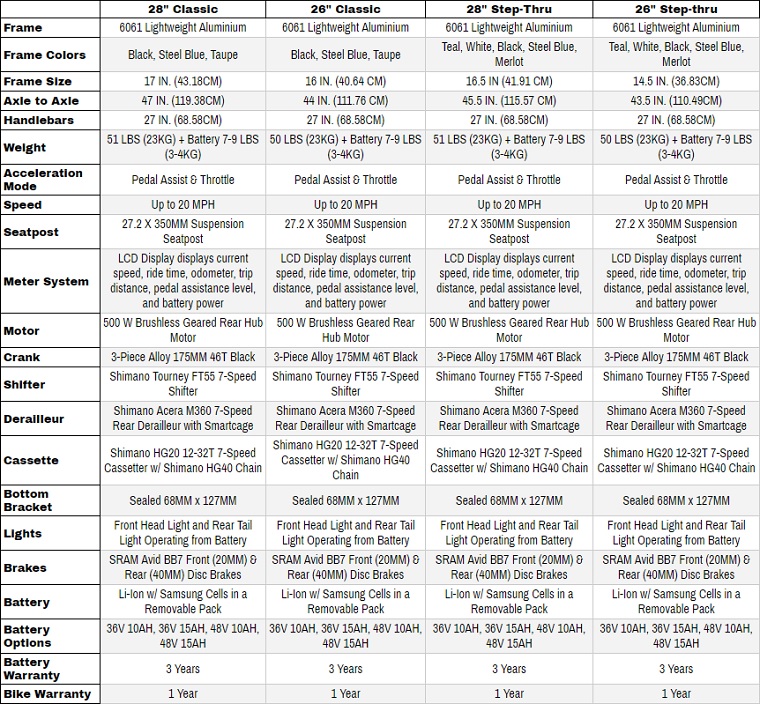 Pedego City Commuter Review
As mentioned earlier, the Pedego City Commuter is probably my favorite ebike in Pedego's line up. When we first received our store models last March, we received two City Commuters - a classic, 28" frame with the taupe color, and one 26" step-thru frame in Merlot. When I rode the step-thru, I knew it was the perfect bicycle for me.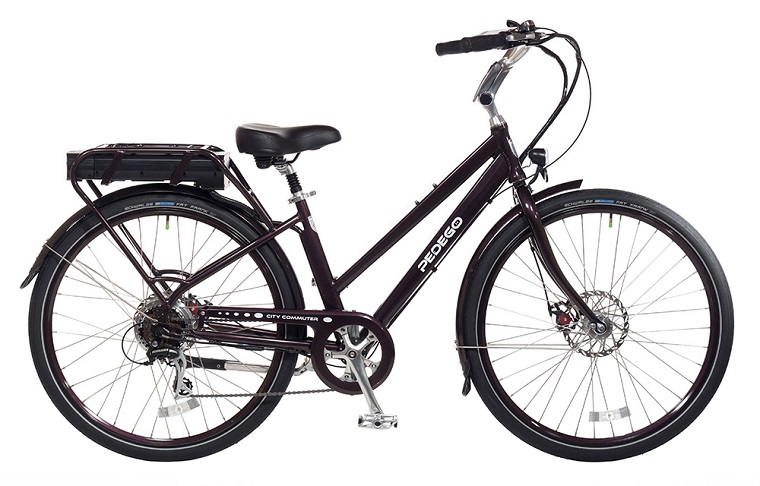 To give some backstory, a few years back I received a horrible sprained ankle that left me on crutches for two weeks after a longboarding accident. Since then, my ability to bike, run, or even go hiking was limited by my ankle - no matter how cautious I was, I always ended up in pain about half way through my travels. This intense pain either had me turn around or push through the pain, neither of which was a fun option.
When I tried out the City Commuter, I was skeptical at first. Did I really want to try biking again? Well, of course I did. And, of course, I tried the ebike. When I was first trying out the pedal assist, there was a bit of a learning curve, but the LCD monitor was helpful in showing me my assistance level and speed. I found myself to bounce back and forth between Level 1 and 2. Once I had my rhythm, I was consistently at Level 1, only needing moderate assistance. After about a week of trying various levels while commuting to work, I decided to only use the pedal assist when I absolutely needed it for my ankle.
My commute to work wasn't far, only two miles, but it was way better than taking my car. Since it was such a short commute, I decided that the best way to understand and appreciate the power of this bicycle was to take longer commutes. So, I started traveling to coffee shops during my breaks, and I would increase my distance of travel to and from work as well.
Even though I absolutely love the City Commuter, there are two major caveats.
First, the bicycle is rather heavy. The frame itself is 50-pounds and the battery alone was close to 9-pounds. The added weight of the motor and battery did make it a little difficult for sharper turns.
Secondly, the tires are designed for the increased speed in which the bike should be traveling for commuting, but the 2" tires are a little narrow for a fully smooth ride. It seemed when I would ride, I found myself trying to avoid little holes just a little bit more than I might with another bicycle.
However, I will say that if I happened to hit some rough terrain, the suspension seat-post was a nice bonus.
Overall, my impression was that the City Commuter was a bicycle that was designed for comfort while also being able to get where you need to go, in one piece. Thanks to the chain guards, I never experienced any excessive dirt along the bottoms of my pants or on my shoes. I love the style of frame, and the adjustable handlebars have really helped my posture when riding.
Well, there you have it, the specifications and technology behind the Pedego City Commuter electric bicycle. If you're looking for a zippy, fun bicycle to get you to work or around town without feeling winded, then you may benefit from the City Commuter.
Recent Posts
Electric bikes are rising in popularity fast in the united states. With their new popularity many pe …

So you're thinking about getting an electric bike to improve your health? We all know regular exerci …

So you're ready to pull the trigger. You've been dreaming of hitting the open road an exploring your …