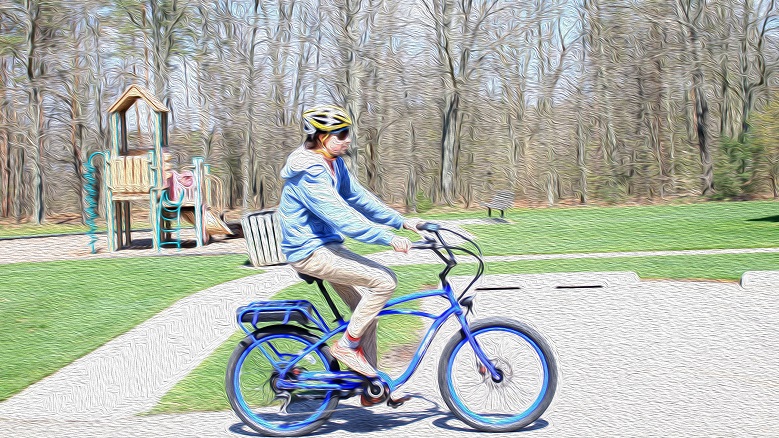 You bike, we bike, everybody e-Bike!
Plug in and join the fun.
About two weeks ago we received our first shipment of Pedego electric bikes. Having used the Prodecotech models over the past few months, I was quite curious how an e-bike with pedal assist would differ from those models with throttle. I really enjoyed tooling around on the Prodeco bikes, but also couldn't shake the feeling that I was riding something more akin to a moped than bicycle. Sure, I could pedal them just like a normal bike. However, with the throttle conveniently positioned next to my right hand, I couldn't resist cranking it back and taking my speed up from an arduous 15 to effortless 20-25 mph.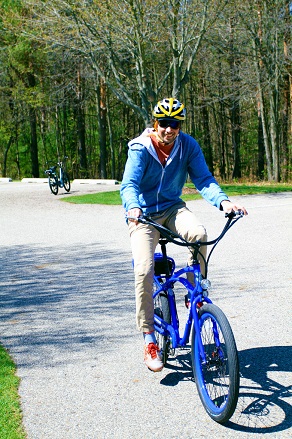 The first Pedego bike to enter our demo fleet was the Classic Interceptor. A Michigan State Police blue with big, bowed out handlebars, the Interceptor feels imposing - like you're riding the king of beach cruisers. The Interceptor features both throttle and pedal assist, with our demo model featuring the larger of the two batteries. The throttle works like you'd expect, feeling similar to the Prodecotech bikes. Between the bike's size and addition of a geared motor and battery, it's surprisingly heavy. Similar to how a motorcycle can feel rather tippy at low speeds, the Interceptor can be tough to navigate at lower speeds, especially when making tight turns (for example, when transitioning from road to sidewalk or vice-versa). The throttle helps with this, giving you enough power to safely navigate tight situations. The throttle is also nice when stopped in traffic / at a light, allowing you to match the acceleration of surrounding cars and better maintain the flow of traffic.
Where the Pedego Interceptor really shines is the pedal assist mode, however. A digital screen on the left handlebar allows you to adjust the electric motor assist between 0-5, with 0 providing no assist and 5 being the peppiest. Naturally, I almost always set the assist to 5. With a few pedal rotations, the bike quickly accelerates to a base speed of roughly 15 mph. With a little effort, I can consistently cruise at 18-20 mph. With my house a little over two miles from the shop, I found myself adding on an additional three - two just wasn't enough!
All in all, I was extremely impressed with the Interceptor, as was everyone else who tried it. If you want a good workout, you can definitely get one. If you want a leisurely cruise, you can get that too, and with pedal assist you can still cover some ground. After commuting back and forth a few times on the Interceptor, it's honestly going to be tough to go back to my regular bicycle.
Learn more about Pedego bicycles here!
Recent Posts
As everyone well knows at this point, Ukraine is struggling with a huge humanitarian and refugee …

We're excited to announce that we are now a Serial 1 electric bike dealer! Serial 1 (Powered …

The Nomad is one of the newest e-bikes to grace Magnum's 2021 product line. The model is …