The Inboard M1 is going to change the electric skateboard market forever.
---
Is the M1 worth the long wait?
There are a lot of electric skateboards you can choose from. So, why would you want to choose the Inboard M1? After all, they are a new startup and not many people have actually had their hands on a board yet -In fact, some early adopters from Kickstarter have been waiting quite a while now. But the promise of better things have kept us holding on. Fortunately, soon Inboard will put the M1 on the streets in droves. The big question here: is it really worth the wait? My vote is a resounding yes. I really believe the the M1 is going to change the electric skateboard market forever.
We have had our hands on the M1 here and we were absolutely amazed by what we found.
If you care to see the M1 in action, you can watch it here, on our YouTube channel.
What's up with the wait, M1?
The reality is that a great product takes time. In a sea of E-boards that look and function with eerie similarity, Inboard wanted to do something different. They looked at what was out there and they asked the only question that really matters in the high tech skateboard race - what comes next?
For a free comparative chart of the current E-skate line up, visit our website.
A side-by-side comparison
The average E-skate uses a belt and external motor
The M1's motor is built right into the wheel

Two hub motors in the rear wheels
The average E-skate has one battery, usually fixed to the base of the deck
The M1 has swappable batteries that are hidden in the deck
The average E-skate cannot be pushed when the battery dies
The M1 can be pushed just like an actual skateboard with the power off

Also capable of coasting if the board dies
Most companies have a three-to-six month warranty
Inboard offers a full year's warranty
The advantages are quite significant
Having the motor built right into the wheel makes for an incredibly clean-looking board.
The swappable battery is something you can't live without once you experience it.
I can't imagine waiting for my board to charge up after a ride any more.
The fact that you can actually push the M1 like a standard, motorless board is pretty convenient. imagine you're commuting to work but you forgot to charge your battery. About halfway there, the board dies. With a normal E-skate, you are now carrying or trying to push 12 to 14 pounds of dead weight. With the M1, you can just longboard to work. This alone pushes the M1 light years ahead of its competition.
We've addressed everything that makes the M1 stand out, but what are the cons?
The M1 feels like a little more of a downhill longboard.. This isn't necessarily bad unless you have your heart set on a looser-feeling board. However, the reason for the stiff feel is intentional. In order to handle the high speeds of up to 24 mph, you wouldn't want to be on a loose deck.
Inboard experienced delays in early production, leaving a lot of people waiting a long time for their skateboard.
The board has a lot of torque, so we find it's best to push start before activating the motor in the wheel.

Why should we choose the M1 over its competitors?
It's simple, really - every industry has its innovations and innovators. Apple with the Ipod, Tesla with self-driving cars.
While I'm not saying the minds behind the M1 are bringing a brighter, cleaner future and hope to mankind like Mr. Musk, I am saying that Ryan Evans and his team look at things differently and simply will not adhere to the mold.
An investment in the M1 is an investment into a company I have no doubt will once again bring us more innovative leaps in E-technology in the coming years. It's also your dollar vote to influence the market as a whole. You will not accept the E-skate tech of yesterday, as awesome as it was. Purchasing the M1 will undoubtedly influence other companies to reach further and develop better technology.
It should be mentioned that there are, in fact, other great choices of Electric skateboards on the market currently.
In truth, some are also fantastic products. Boosted is a very well-built board and rides very smoothly. I'm excited to say that Boosted Boards will be releasing some new toys in the near future and I can't wait to see what they have in store.
There are other options on the market that transcend the realm of skateboarding altogether. The Onewheel is a perfect example of this - a singular, motorized wheel that doesn't require a remote to ride.
If you are looking for the most pure motorized skateboard experience, the M1 is your best bet.
I encourage you to get your hands on a demo as soon as you can.

Our Experience
Now, being from Michigan, we also loved the fact that the hub motor within the wheel is water resistant. Now, don't mistake this for waterproof! If you plan on cruising through puddles and rain storms, you will cause some damage. While we were demoing the board, I did get caught in some sprinkles and cruised right through a shallow puddle. No harm no foul, I gave the bottom a quick wipe down and continued on my way.
Another way the M1 really outshines the competition are the front and rear lights. I'm not going to sit here and tell you that they will light your path in the sense of headlights, but it will alert drivers and pedestrians to your presence on the road. This will be incredibly useful for riders living in large high traffic cities like San Francisco & New York, as well as a rider on a rural road in Iowa.
I don't know about you, but I'm not big on wearing a reflective vest when I longboard home from work. I often work downtown in a high-traffic tourist city, and there have been many nights riding home in which I've felt vulnerable cutting out of alleys and into congested streets. The M1 alleviates a large part of this for me.
From a purely aesthetic standpoint, I think the lights look really cool and are the icing on the cake on an exceptionally streamlined board. In fact, the entire design stands out to me. It's just perfect - the flat black base, the lack of belts and moving parts, the simple red wheels, and of course, the simple yet functional and almost necessary lights.
---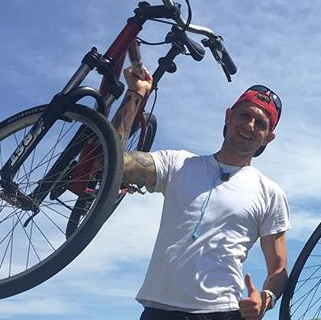 Ryan (Rygo) Goloversic
Many people dream of quitting their job, traveling the world and pursuing their passions. Rygo is one of those people. About eight years into a postal career, he decided to change everything and travel as a freelance videographer & writer. This took him from coast to coast and a variety of countries. Nowadays you can catch him on the phones, doing lessons, or working on videos. Of course, he still makes a point to travel as often as possible. He is passionate about helping people and sharing the stoke with his customers and students alike.
---
Recent Posts
Electric bikes are rising in popularity fast in the united states. With their new popularity many pe …

So you're thinking about getting an electric bike to improve your health? We all know regular exerci …

So you're ready to pull the trigger. You've been dreaming of hitting the open road an exploring your …