First (& Second & Third) Impression: Raleigh Tristar iE
I gotta admit, there's something incredibly attractive about a trike to me. Maybe it's that's big basket in back (I'm always hauling stuff around). Or maybe it's just the leisurely lifestyle that trikes conjure. Regardless of motivation, I was obviously super excited to get out and try the new Raleigh Tristar iE electric trike. So last week when it was wheeled into the showroom, I promptly wheeled it right back out and gave it a try.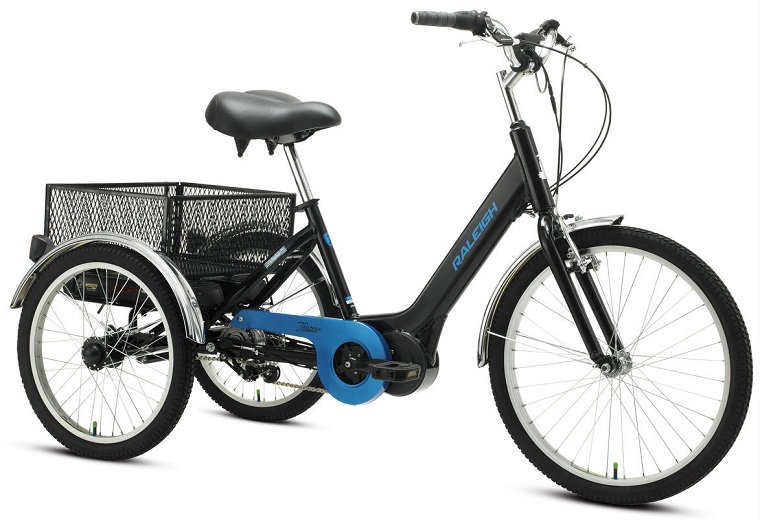 Let's get the specs out of the way first. The Raleigh Tristar e-bike uses a 350 watt mid-drive (Centerdrive) motor. It comes with a 48 volt battery that rests under the basket in back, and has option to carry two batteries. The pedal assist tops out around 15 mph, which is plenty fast for a trike. The Tristar feels best in the 6-10 mph range. Now back to my first ride...
Adjusting the seat, I set the pedal assist to 4 (the fastest option) and off I went. I found myself immediately disappointed. The bike felt unstable as my pedal strokes rocked the back two wheels side to side. I rounded the corner and felt like I was going to go up on two wheels. Whew! I set the pedal assist down to 2, and carefully pedaled back to the showroom, vowing to never recommend it or ride it again.
As chance would have it, our Raleigh rep showed up later that same day. Right before he took off (I didn't want to start the visit on a low note) I had to ask, "What''s up with the trike? There's no way anyone would possibly buy that electric bike after trying it!" He adjusted the seat down and recommended I try using the bike on slower speeds. I reluctantly wheeled the Tristar back out front, confident it was beyond redemption.
What a difference that second ride made. Lowering the seat helped bring down that center of gravity, and the bike felt much more stable. I tried to ride a bit more forward on the bike, and it helped with stability in the turns. Within 5 minutes, I was back to cruising on assist level 4. The Tristar does have an incredibly small turning radius, so you should definitely check your speed before heading into a sharp cornering or up goes a wheel.
Since then, I've taken the Tristar iE on several more rides and been pretty happy with what it is. Is it a high-speed commuter? No. What it is is a functional bike for running errands leisurely around town. The pedal assist helps push past some of added rolling resistance you get from trikes, and gives you that extra push to get your groceries home and in the freezer before the ice cream melts.
Recent Posts
As everyone well knows at this point, Ukraine is struggling with a huge humanitarian and refugee …

We're excited to announce that we are now a Serial 1 electric bike dealer! Serial 1 (Powered …

The Nomad is one of the newest e-bikes to grace Magnum's 2021 product line. The model is …