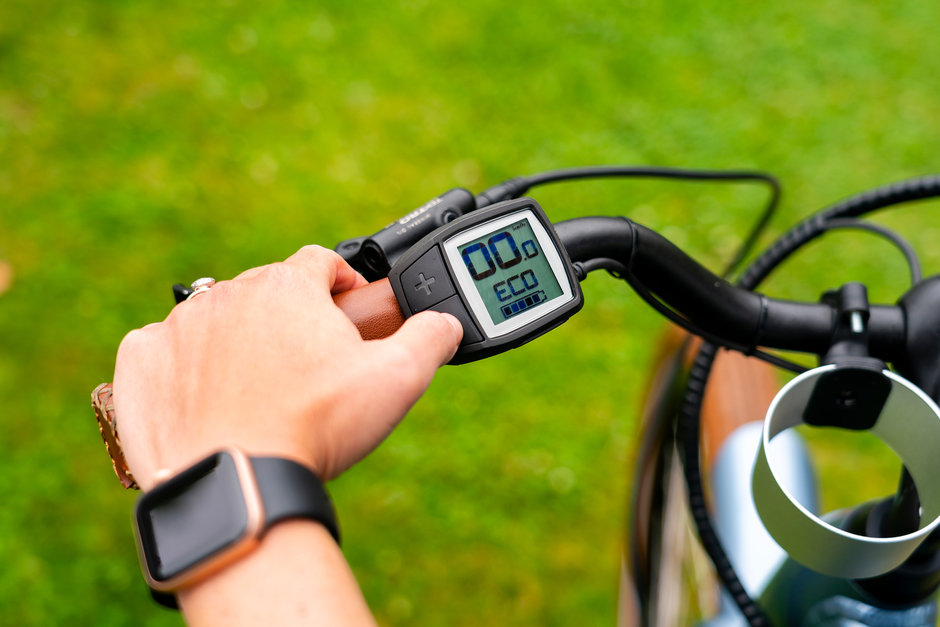 Photo Credit: Raleigh Electric
"Nothing compares to the simple pleasure of riding a bike." – John F. Kennedy
For many of our customers, the electric bike test ride is a quintessential part of their buying experience. Appointments help you understand e-bikes, your riding preferences, and your new bike.
Still, calling a bike shop to set up an appointment can raise some questions about what you should expect.
Below are common questions about electric bikes and what to expect for your first test ride.
Are e-bikes easy to ride?
As someone who rides electric bikes frequently, I would say that they are easy to ride. Turn on your power, set your assistance level, and go! That being said, I also admit that answer is biased based on my experience.
Every person will feel differently about electric bikes. For some, the saying, "it's just like riding a bike," may sound nerve-wracking. Perhaps you haven't been on a bike in 20 years, or you were just riding 30 miles a few days back. Either way, everyone's journey is different.
You can likely learn how to ride an electric bike on the spot. One of the biggest tips is to listen to yourself. Your confidence level will determine how quickly you learn how to ride an e-bike. Of course, if you have any questions about how to ride a bike, we will be right there to give you pointers!
Do electric bikes feel fast?
If you're not used to riding an e-bike, it may feel zippy at first! It's common for us to see the look of excitement and slight confusion when you find yourself cruising at 20 miles per hour without pedaling. That look of excitement is a good sign that you've found an option you're likely going to enjoy on each ride!
Admittedly, not all bikes ride the same. Some may feel fast, while others are subtle. Electric bikes can differ in motor power, motor type, and assistance. You may find that throttle e-bikes feel immediately faster, but pedal assist is more sustained. Hub motors may feel like you're being pushed or pulled rather than a gradual power with pedal assistance.
Knowing about the differences between motors and assistance will help you find a bike that fits your desires.
What should I expect from my test ride?
All stores operate their test rides differently, and even experiences between each test ride may differ. At Electric Bike Place, we like to tailor your test rides to maximize your experience. We prefer to operate by appointments, which can be arranged by calling, emailing, or live chat with us. When you call us, expect us to tell you where to park, what times are available, and if you need to bring anything.
We may also ask for your:
Age
Height
Weight
Bike riding experience
While it may seem strange to share some of this information with a person you barely know, it helps our staff pick out bikes that will best fit your wants and needs.
What should I know before my test ride?
It's okay if you don't know a lot about electric bikes before your appointment. That's why we are here, after all!
Ideally, you have a general idea of the following:
Where and how long you want to ride (pavement, trails, etc.)
Type of assistance (throttle versus pedal assist)
Fit style (upright, step-through, high step)
There are also great blogs offering reviews and recommendations on specific electric bikes if you need technical advice.
To be honest, some of the most well-researched clients may completely change their minds on what they wanted when they stepped into our doors after their ride. Coming into your appointment with an openness and willingness to ride can help enhance your appointment. It is up to you how you want your appointment to progress, whether that is focusing on one option or testing a dozen e-bikes.
If you need some inspiration on what bike you're after, take a look at our article about deciding on an electric bike.
At your test ride appointment
Our staff will have a few bikes out ready for you to ride. If you don't bring a helmet, that's okay! We'll provide a sanitized helmet at your test ride. Of course, you're always welcome to bring your own!
Don't be surprised if we simply show you how to turn on and ride the bikes to start. We believe the best way to fully understand an electric bike is to ride it! From there, we can then discuss what makes each bike unique and gain insight into your preferences.
You may also be able to change out a seat or add an accessory to "plus" up your e-bike with pannier bags, lights, and fenders.
If you find an electric bike that you love, great! We can double-check that everything is ready to go for you and help you load up your new ride. If you need a bike in a different size, we may need to build out the bike depending on availability, which takes a few days to build and check for quality.
If you're still undecided, no worries. At the end of the day, an electric bike is an investment, and we want you to feel 100% comfortable with your decision.
Final Thoughts
The electric bike test ride can be the make-or-break for many people. You can learn about e-bikes, how to ride them, and what options are available for you. Test rides can also give you a starting point in your research journey.
You should feel confident with your decision, and it's okay to take a while before pressing that "Buy Now" button or writing a check. Dig deep, evaluate your needs, and reach out for additional help.
As always, you are welcome to give us a call or email with any questions. Give us a call at 800-622-4655, email us at bikes@mackite.com, or live chat with us about your test ride.
Recent Posts
Photo Credit: Raleigh Electric "Nothing compares to the simple pleasure of riding a bik …

Photo credit: Swagman You may be dreamily-gazing at inspirational quotes about travel and re-re …

So, you've purchased your first electric bike and now you're given a box with a manual, some techy-l …