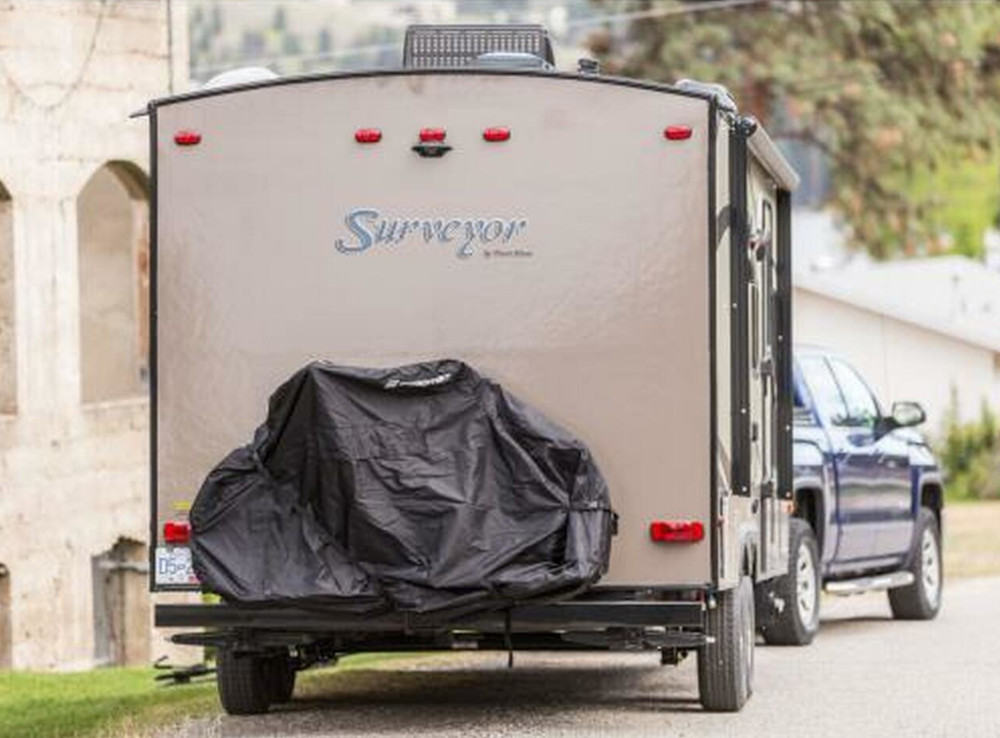 Photo credit: Swagman
You may be dreamily-gazing at inspirational quotes about travel and re-reading your already worn-out copy of On The Road by Jack Kerouac. You aren't alone. In fact, the RV Industry Association has seen an increase of over 20% in RV shipments in 2020.
RV and van travel can be a cost-effective way to explore the country. You have more access to campgrounds, state parks, and unique locales that may not be near a hotel or airport. You're able to carry more personal items and feel more at-home.
But, let's admit that camper vans and RVs at times can be cumbersome when driving narrow city roads. Wouldn't it be nice if there was another option?
We get questions about electric bikes and RVs often; in fact, some of our customers have e-bikes specifically for their RVs!
We asked Magnum Bikes about their thoughts on adding an e-bike to RVs,
"...They're a great alternative means of transportation while the motor home is parked in a park and make navigating around a town/city much smoother than having to haul a motor home around all the time."
We've touched upon this idea in a previous article describing the reasons you want an electric bike on your RV. To sum it up, carrying an e-bike in your RV allows you to explore more, get some exercise, and have an alternative form of transportation during emergencies. Who doesn't love the sound of that?
Still interested in adding an electric bike to your camper? We've broken down bike models to consider, tips for protecting your battery, and accessories to add for transporting your bike.
E-Bike Styles for Motorhome and Trailer Travel
There is no one style of electric bike that fits all RV travel. Maybe you're traveling in a Class A motorhome with plenty of space or a hitch rack to load your bikes. Perhaps you're hauling a pop-up camper where storage is a mind game of its own. In either case, there is an electric bike available.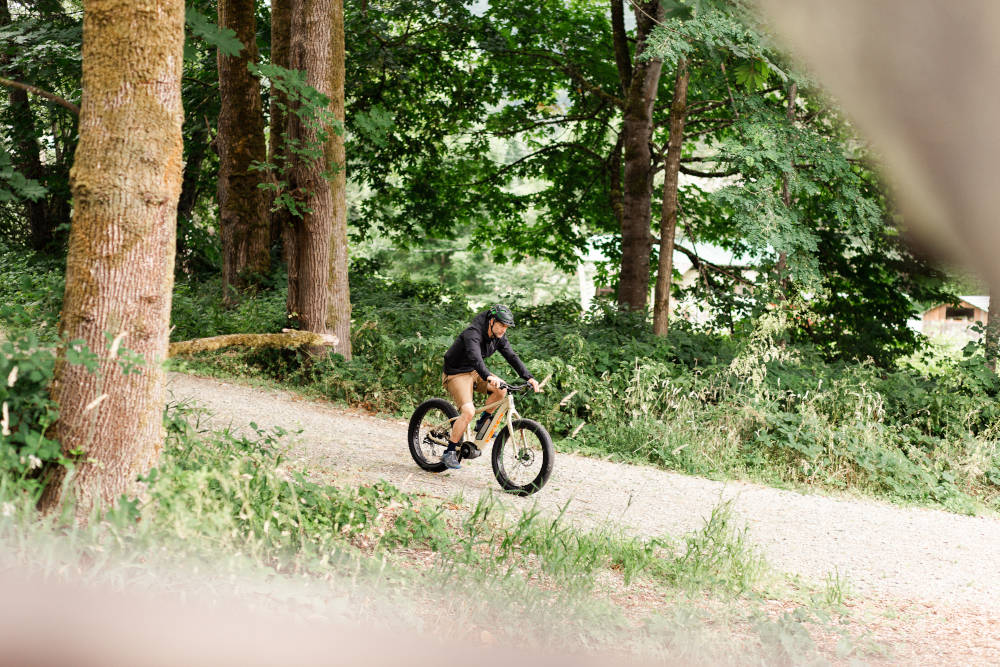 Photo credit: iZip
Full Electric Bikes
The benefit of having a full-sized e-bike is that you can choose a bike that rides perfectly for you. Important factors such as weight, height, and activity level are all taken care of with your bike.
One large con of having a large bike is its weight and size. They can be heavy to carry around, especially if you don't have a rack, and awkward to store. Considering an electric bike is often one unit, it can be harder to take items off like handlebars and front tires.
Foldable E-Bikes
Folding electric bikes are compact and able to be stored quickly. We have seen foldable bikes in car trunks, RV storage containers, and planes. They break down within a minute or two, often only needing a folding of the pedals and handlebar and the flip of a switch. It's an easy, fast, and simple way to have an e-bike without a large footprint.
Magnum Bikes create multiple folding electric bikes. According to Magnum, "...our folding bikes [are] the best in terms of which e-bikes are most appropriate to own with an RV.. I've always recommended to our RV customers to fold them up and store them either in the RV itself or in a storage hatch below the living space.."
So, what are the cons against foldable bikes?
Historically, folding e-bikes had a smaller battery and lowered range. However, electric bikes keep evolving and improving.
You may also notice a foldable electric bike is smaller in its overall frame size as well, making it a little awkward to ride (especially if you're taller).
If you are still thinking about buying an ebike, read our article about deciding on your ride.
Protecting Your Electric Bike and Battery While Traveling
Problems with your electric bike should be one of the last things you need to worry about when traveling in an RV. If you find yourself stuck on how to protect your bike and its battery, read on!
First things first, take out your battery. Say you hit a pothole. It may not affect your 35-foot motorhome, but it may take its toll on your bike. Small jostles and bumps can move the bike battery and bend connection points. Trust us, you do not want to carry your electric bike unprotected and then find it won't turn on when you want to ride!
Removing a battery from an electric bike is pretty simple. Many models come equipped with keys. The key can be used to remove the battery and for other features (for example, the AXA Cafe Lock on Gazelle bikes).
To remove, insert the key and twist to disconnect the battery from the bike. If your battery is located on the rear rack, then you can slide out the battery from the open area. Downtube batteries often have a button to press to release or pop out as soon as the key is twisted.
When traveling with a battery, you will want to consider safety precautions to avoid injury or accidents. Remove the battery and place it in the back of your car. You will want to make sure you don't leave your battery in extreme temperatures. Bosch's electric bike battery guide recommends that their batteries should not be stored below 10°C or above 60°C (50°F to 122°F). Keep your battery away from flammable materials.
On the other end, you may want to cover the battery compartment on the bike. This can be done in many ways, but the main point is to keep debris and dirt away from the area. Another great option is to cover the bikes entirely with a rack cover.
E-Bike Accessories For RV Travel
Locks
A high-quality lock is essential for electric bikes. Considering a majority of e-bikes cost between $1,000 and $3,500, you may want to upgrade your lock to protect your investment.
Many racks come with cords that wrap around your bikes as a basic form of protection. They can be helpful for quick trips to public places but are not ideal for long-term storage.
A thief will steal a bike that is easiest to grab-and-go, not always the most expensive. You wouldn't leave your car unlocked while heading into the store, would you?
AXA Bike Security has a list of tips related to protecting your electric bike. If you stay aware, play it safe, and have the right tools, then you are on the right track to protect your bike.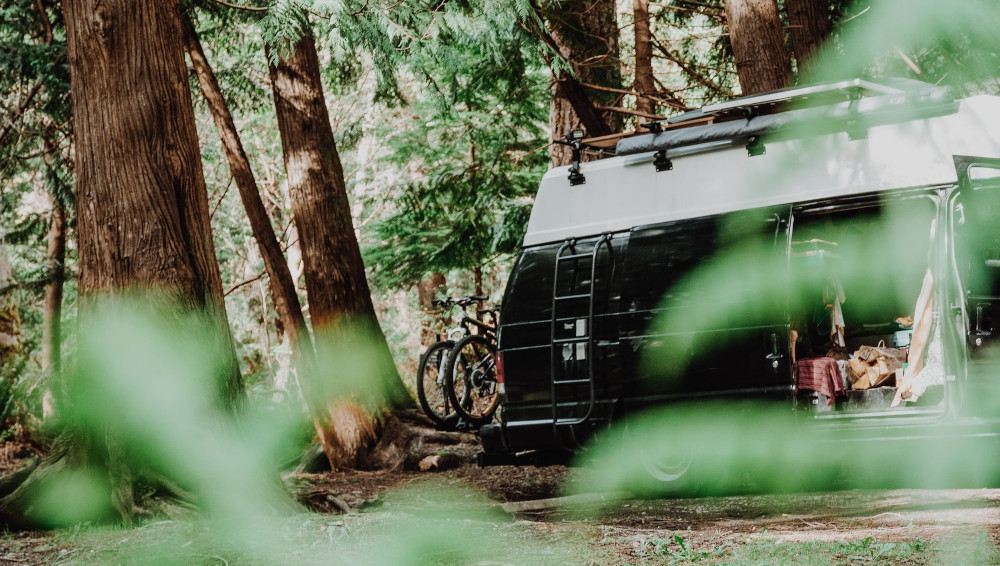 Photo credit: RockyMounts
Racks
Unless you have a folding e-bike, you may find it hard to store an electric bike in your RV. Many RVs have a hitch available to mount an e-bike rack. Make sure you use a rack that is compatible with electric bikes.
Many well-known companies are starting to reinvent their racks to include electric bikes. We questioned Swagman about their transition to e-bike racks in a recent conversation,
"Swagman, the leader in RV Approved bicycle racks, saw the need for RV Approved racks that are built to handle heavier bikes, including e-bikes. We created two racks for the RV Approved category, the Escapee (60lbs per bike, with zero frame contact) and the E-Spec (70lbs per bike, with frame contact). Both of these racks are capable of holding bikes while being mounted on the rear of a Travel Trailer or 5th Wheel."
When you're using a rack, make sure to understand how to properly store your bike to minimize jostling while on the road and theft.
Final Thoughts
It makes sense why electric bikes would be paired with RV travel. They let you make quick, easy trips into town, have some exercise, and give you another option during roadside emergencies. With the right bike, accessories, and protection your experience will feel as if your e-bike is a welcome passenger.
We hope that some of your initial questions about RVs and electric bikes have been answered. As always, you are more than welcome to give us a call at 800-622-4655, email us at bikes@mackite.com, or live chat with us if you have any other questions.
Recent Posts
Photo Credit: Raleigh Electric "Nothing compares to the simple pleasure of riding a bik …

Photo credit: Swagman You may be dreamily-gazing at inspirational quotes about travel and re-re …

So, you've purchased your first electric bike and now you're given a box with a manual, some techy-l …