The benefits of riding an electric bike are countless. From your sense of well being, your health to your impact on the environment. Perhaps it's something practical like your personal budget or simply spending more time outside. It means different things to different people at the end of the day, if you're reading this, chances are you're one of those awesome people who do things a little differently. We salute you and your desire to improve or simply do some good. Without further ado, lets dive into 6 different reasons commuting with an Electric Bike is Awesome!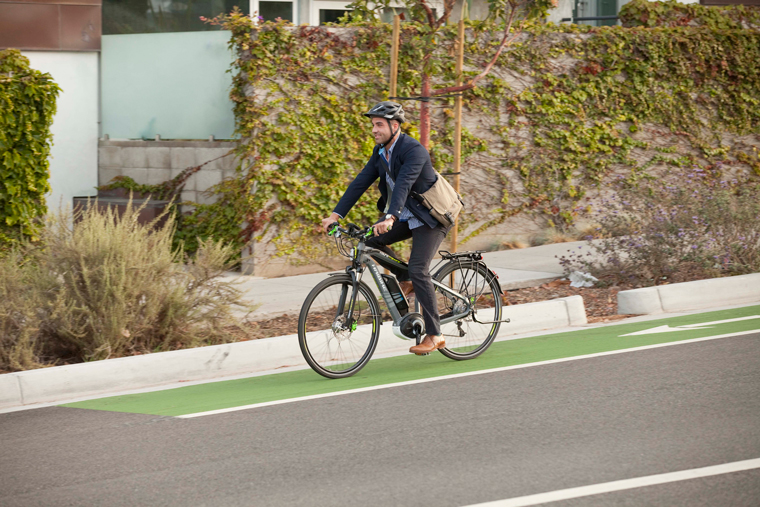 Commuting with an electric bike
---
1 You start your day differently than most
One of the best and most powerful parts of life is your morning routine. In fact, one of the best things you can do for yourself is incorporate some personal time in the morning. Time to sip coffee, plan your day or read. Time to get outside or exercise! Time to make your day what you want it to be.
If you're someone who likes to ride an electric bike, you're someone who is consciously choosing a powerful and emboldening habit. You're starting your day with a positive choice that will likely lead to other positive choices the rest of your day! How we chose to start our day often sets the tone and our outlook for the rest of our waking hours.
An electric bike commute will be something different to everyone! What might it mean to you? A means of getting your daily sunshine? A way to spend time with your thoughts? A chance to connect with yourself and your goals? Maybe it's just time to simply be happy. That part is up to you!
For me, one of the best parts of living in a beach town is riding an electric bike or skateboard to work. There's just something about topping off your travel mug of coffee, getting outside and enjoying the sunshine, the fresh breeze and the elements before starting the work day.
For our team, when the fall season kicks into gear, the refreshing air and exercise keep us in a positive mindset for the office. Time spent outside becomes invaluable when the days become shorter and we're getting a lot of artificial light.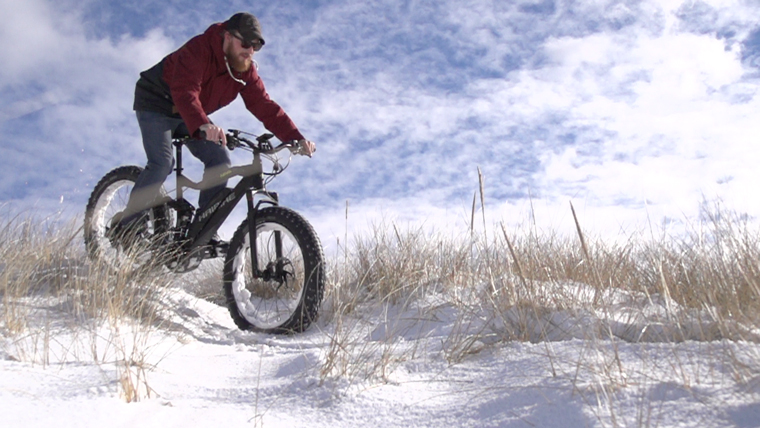 Our Bike Tech Brad Doren testing a fat tire electric bike
---
For the truly brave, fat tire bikes in the snow are king and no amount of chill in the air is going to stop them from getting their me time.
Biking even in the winter might seem far fetched to some but the truth is, there are plenty of mood elevating and health benefits for simply spending time outside. With technology becoming such a large part of our lives, getting outside has become vastly more important and the electric commuter lifestyle is the perfect solution for many.
Winter biking isn't for everyone but those who have the desire and will are reaping the rewards. The real trick is actually just getting your winter layers on. Riding is the fun and easy part!
---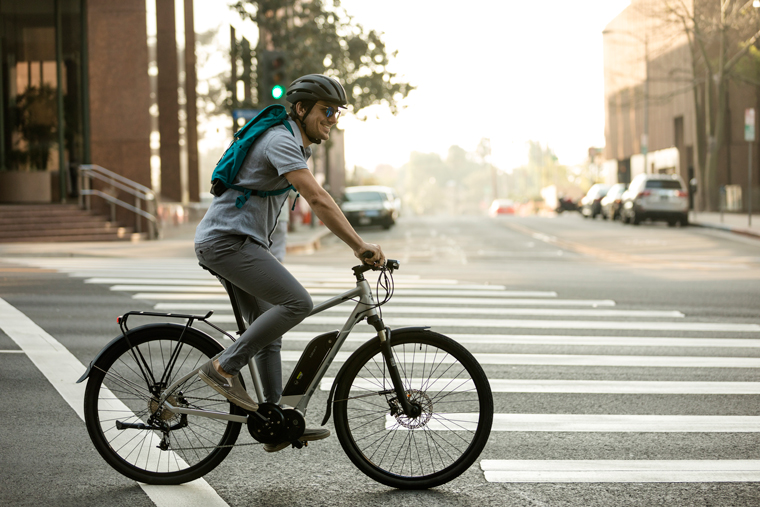 You can bike to work even when it's a longer distance
---
2 Electric bikes make long commutes possible
There are many people out there who would love to get outside more and enjoy life by commuting on a bike or even an electric longboard, yet circumstance simply has not allowed for it. Be that the distance, their physical condition or the fact that they might have a professional job where showing up drenched in sweat is not an option.
Many electric bikes can reach up to 21 miles per hour. Depending on the traffic you encounter, it actually might be a faster way to get to work. Not to mention the headache saved dealing with traffic, other drivers and listening to the same radio station. An occasional bike commute adds some novelty and can often save time and money. An eleven mile commute would take roughly half an hour.
This is great news for bike lovers who might live a bit too far from work yet wish they could ride their bike in a timely fashion that actually makes sense with their schedule.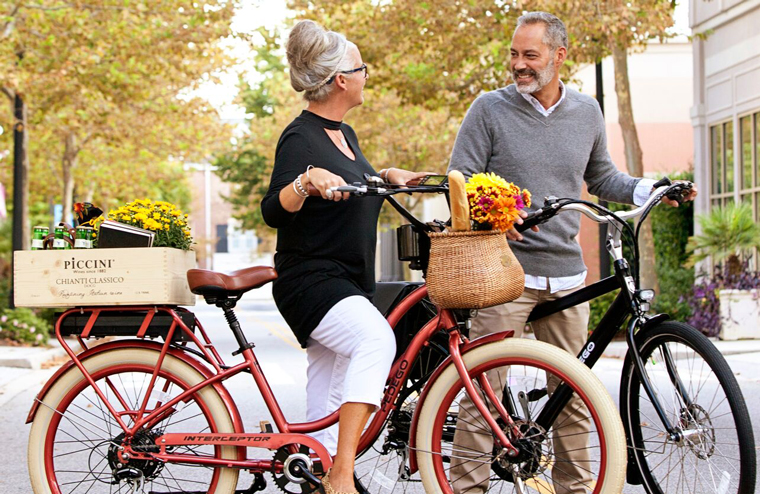 Electric bikes cater to most everyone
---
3 It's something almost anyone can do
Aside from covering great distances, many people want the lifestyle and benefits of a bike commute but circumstance is not in their favor. They might not be able to bike to work anymore or perhaps never could. whether it's a physical ailment, an injury or maybe you're not in the shape you used to be or wish to be. Electric bikes are often the perfect solution. You only have to work as hard as you'd like to or not at all.
There is something about spending time outside on your own terms escaping the chaos of traffic that's not only liberating but fun a joyful all at once.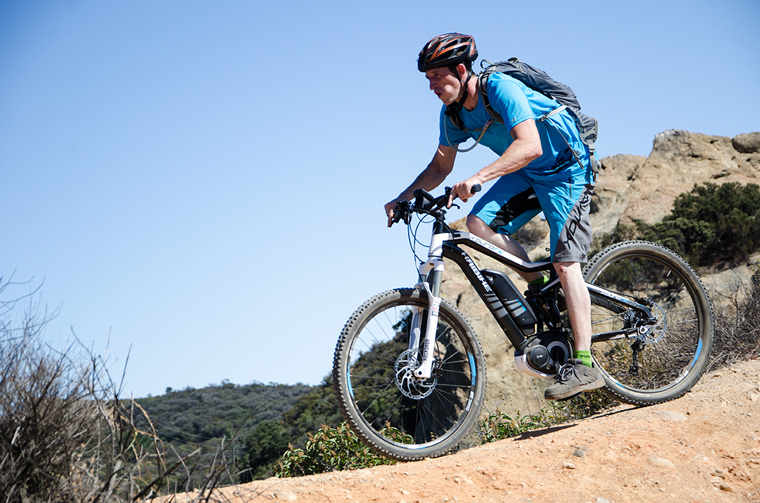 4 You can get serious exercise
A common misconception about electric bikes is that you won't get a good work out. Here's the thing, you can get as much exercise as you like on an electric bike. You'll simply ride greater distances in a shorter amount of time. Really, they make the world or your city more accessible. Perhaps you've seen all there is to see in the neighborhoods you often work out in. With an electric bike you can travel much further and add many different views and paths to your training regimen or your morning commute.
Your level of effort depends on the distance and the level of pedal assist you use. Effectively, you can get the same exercise as you would from a normal bike yet travel twice or three times the distance for the same effort. That means for some, you could bike to the trailhead rather than haul your bike with your vehicle or deal with racking and un racking every time you want to train. If you're commuting to work, you can explore new routes on your way home and add a daily workout to mix things up. Perhaps explore a new coffee shop or find a new gym. You'd be surprised at what you notice about your city when traveling by bike.
If you're someone who is hoping to burn a couple extra calories on the way to work or running your daily errands an electric bike makes locations previously unavailable due to the distance and require effort. Now you can get extra exercise at your convenience.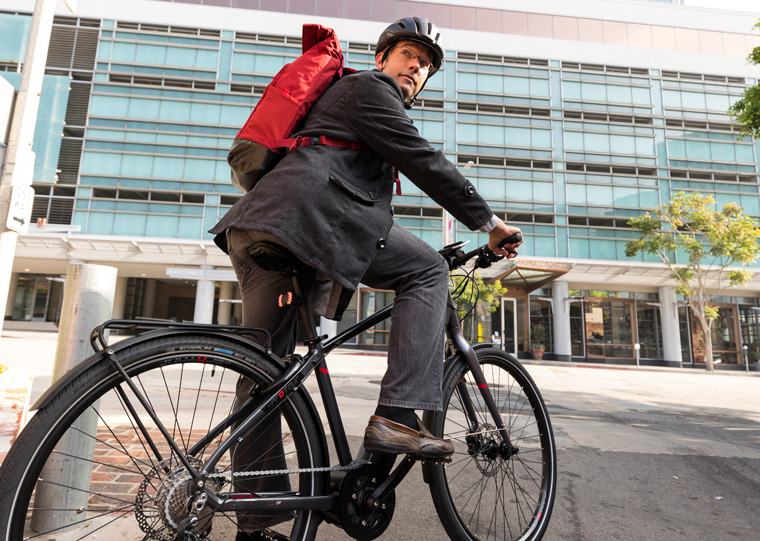 Electric bikes are good for your budget and our air quality
---
5 You save money and the environment
When you ride an electric bike, you save on gas, you're helping the environment and improving your health. If you like math, you could pick say, two days a week that you'll commit to biking.
Now, let's say your daily drive is about 15 miles one way and your vehicle gets 25 miles to the gallon. Gas is on average $3.00 per gallon. You work say, 50 weeks a year and you logging thirty miles a day in your gas guzzler.
You just saved 3000 miles on your car, one $60 dollar oil change for those miles about $288 in gas and you likely lost some weight in the process. Repeat this two day a week commute for 5 years and most electric bikes actually pay for themselves.
Here's a useful calculator you can use to determine what you'd save from your own vehicle, commute and commitment.
6 You stay clean for work
If you work in an office where staying clean is a must, using an electric bike is a great hack. On the warmer days, the apparent wind created will keep you cooler than a car with the windows down. If you use a high level of pedal assist it's completely possible to not break a sweat while enjoying mother nature.
Using a high level of pedal assist can be as invigorating as a light walk with a cool breeze. If your bike has a throttle, you won't be getting any exercise but you will get all the benefits of escaping traffic and enjoying the outdoors.
Electric bikes are taking off in the professional world, particularly in forward thinking cities where traffic and parking are getting to be too much.
In fact, some bikes actually cater to forward thinking working professionals
So there you have it. 6 reasons commuting with an electric bike is awesome. Hopefully this article inspires you to get outside more and make your day what you want it to be. If you're commuting with an electric bike we'd love to hear about it! Send us a DM on instagram and share your experience.
If you would like to lean more about electric bikes visit our store or just give us a call at 800 622 4655. Feel free to reach out to us on our live chat as well.
---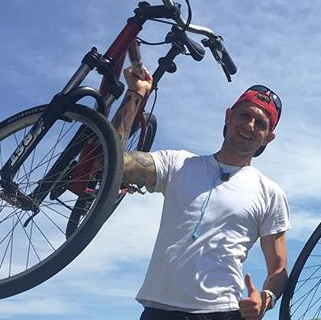 Ryan (Rygo) Goloversic
Avid lover of travel, fitness and the outdoor lifestyle.
He's a kitesurfer, video editor and professional writer. His mission is to inspire others to live a healthier happier more conscious lifestyle. Most importantly get active, get outside and live your best life.
Recent Posts
Electric bikes are rising in popularity fast in the united states. With their new popularity many pe …

So you're thinking about getting an electric bike to improve your health? We all know regular exerci …

So you're ready to pull the trigger. You've been dreaming of hitting the open road an exploring your …