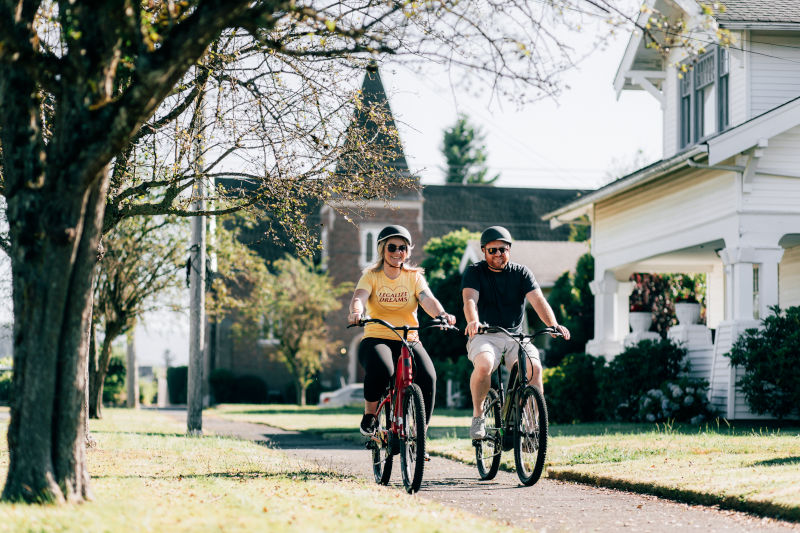 IZIP Zuma 2.0 Step-Thru - Photo credit: IZIP
The snow has melted, the bike paths are clear, and it's time to break out the bikes! Here are our top 5 bikes to cruise into spring:
Norco Scene VLT
The Norco Scene is a step-thru e-bike with a Shimano STEPS E6100 mid-drive motor. Pedaling up to 20 mph is a breeze, and the pedal assistance is smooth and subtle. Unique to this bike is the JD TranzX Dropper, which helps maximize comfort and fits most heights. In our opinion, this bike is well thought out and brings a lot to the table.
What we love about the Scene VLT:
The Shimano system is so smooth that you can reach 20 mph without even noticing!
The JD TranzX Dropper is really accommodating with sizes and can really help take pressure off of achy knee joints.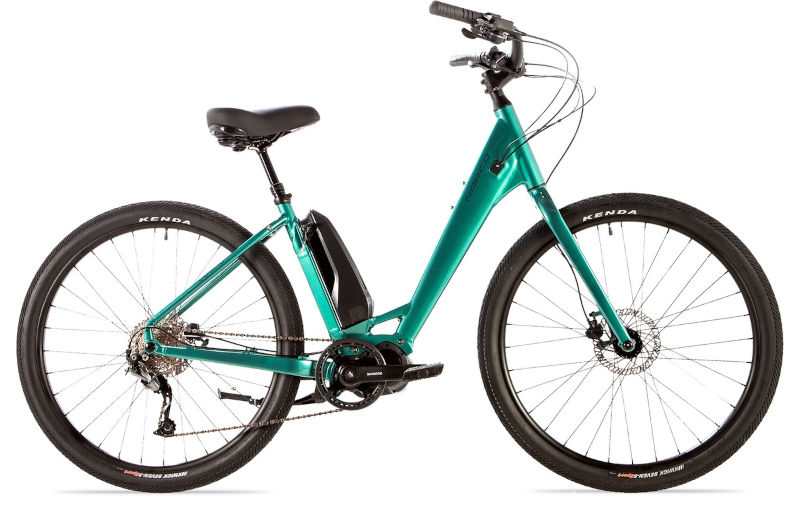 Norco Scene VLT (Jade) - Photo Credit: Norco
IZIP Zuma 2.0
The IZIP Zuma 2.0, available in bright red and dark gray colorways, lets riders worship the sun in style. This beach cruiser offers a Bosch Active Line Plus mid-drive motor, perfect for the occasional steep hill.
What we love about the Zuma 2.0:
The low-profile frame fits most shorter riders!
Bosch's Purion display is very easy to operate and suitable for most bikers.
The Zuma reminds us of warmer months with its flower decals and blazing red color.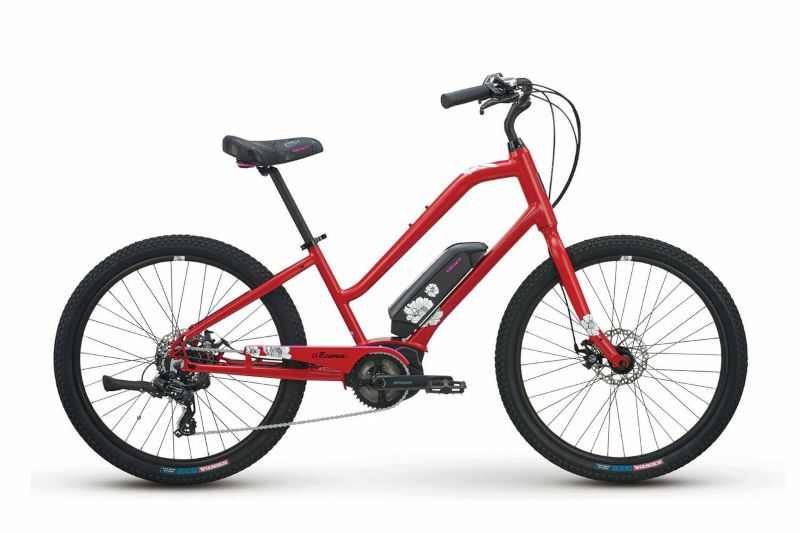 IZIP Zuma 2.0 (Cherry Red) - Photo Credit: IZIP
Raleigh Venture
With a low-step frame and an upright riding position, the Raleigh Venture reconnects bikers with nature in a fun and new way. With a seamless look thanks to the integrated battery and performance-packed features like hydraulic disc brakes, the Venture is a great option looking for quality and style all in one package.
What we love about the Venture:
The low-step frame allows riders of varying abilities to feel comfortable getting on and off the bike.
The battery's downtube integration with the Bosch mid-drive motor gives the "e" quality a very subtle look.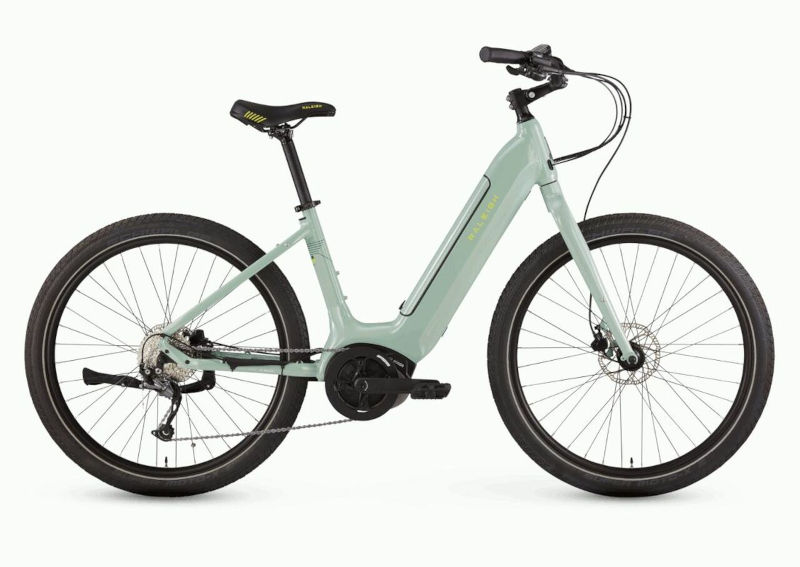 Raleigh Venture (Sage Green) - Photo Credit: Raleigh
Gazelle Easyflow
Want to bike up to 100 miles? Long bike rides are no match for the Gazelle Easyflow! The ergonomic, Dutch-style frame lets you sit upright, giving you the comfort to ride farther. Included with this bike are fenders, a rear rack, front and taillights, and a chainguard.
What we love about the Easyflow:
Gazelle's included features add a lot of quality to a moderate price tag. Our riders really enjoy the suspension seat post and plush lycra seat.
Shimano's display is easy to see while riding, as it's in the middle of the handlebars.
The hidden bell in the grip! Even though it's hidden, this bell is loud and definitely lets others know you're riding near them.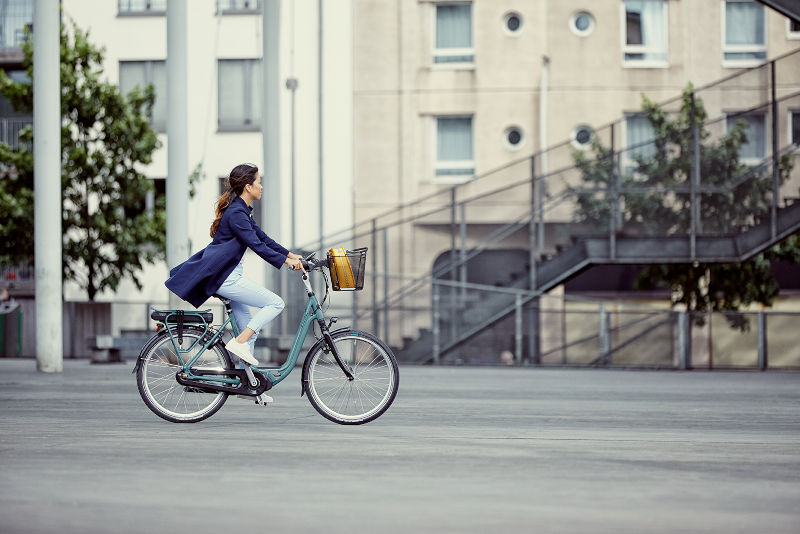 Gazelle Easyflow - Photo credit: Royal Dutch Gazelle
Magnum Ui6
Looking for something with a little more power to the pedal? The Magnum Ui6 offers on-demand throttle and pedal assistance. With a top speed of 25 mph, this Class 2 e-bike amplifies any ride! The 48V downtube battery lets riders travel between 30 and 60 miles on a single charge. Also included is a front fork fender, integrated front light, suspension seat post, and Shimano trigger shifting.
What we love about the Ui6:
The thumb throttle is really easy to push for quick bursts of assistance.
Many features wouldn't be expected on a bike for this price are included, including a front fork suspension, fenders, and integrated headlight.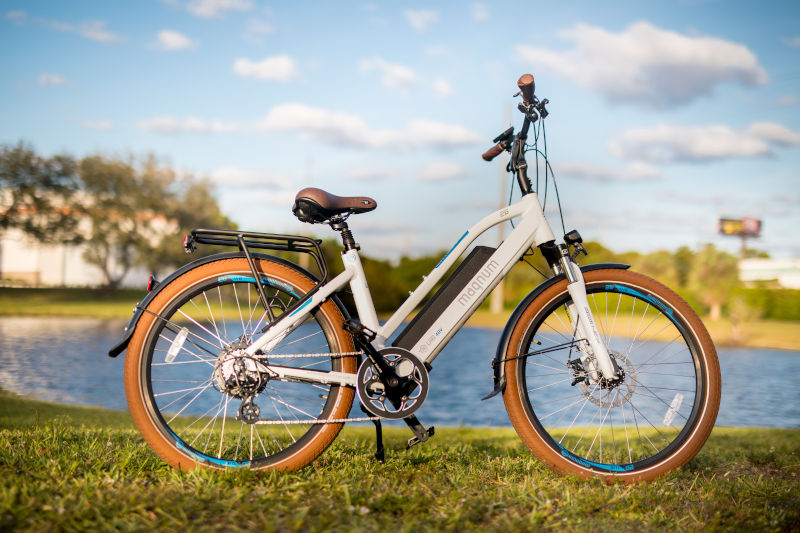 Magnum Ui6 (White) - Photo credit: Magnum
-----
Ready for a spring ride? Test rides are available by appointment! To schedule an appointment, please call 800-622-4655 or email bikes@mackite.com. Have any more questions? Feel free to live chat with us. We're happy to help!
Recent Posts
"How do I take out my battery?" "Where do I charge my bike?" Your battery is your bike's life …

IZIP Zuma 2.0 Step-Thru - Photo credit: IZIP The snow has melted, the bike paths are clear, …

How hard is it to assemble my electric bike? Do I need to take it to a bike shop? Help! …