Electric Bike Place Offers A New Take On Date Night
Summer is heating up in West Michigan, which is great for couples to get out of the house and experience something new. For couples who like to try different experiences each time they're out, an electric bike might be a great way to add flair to your date. Here is a list of the top 5 date night ideas with electric bikes from Electric Bike Place (powered by MACkite).
Bike to a Romantic Picnic
If your bike has panniers (saddle bags) or a front basket, bring a bottle of your favorite libation, a cozy blanket, and a few snacks to share. In Grand Haven, the State Park is a great spot for a picnic. The Grand Haven State Park is 48-acres of beautiful sugar sand beach connected to the popular City Beach. You will be able to follow around Lake Michigan to popular destinations, such as the Grand Haven Lighthouse and to the boardwalk with access to all of downtown's amenities.
With the sunset going down, warm sand at your feet, and your loved one by your side, it's a perfect way to spend the day.
Resources:
Information about Grand Haven State Park can be found, here.
Another great spot to have a romantic picnic is the unique spot of 5-Mile Hill off of S. Harbor Street. The best thing, is that you don't actually travel 5 miles up hill (although you could definitely make it on an electric bike); instead, you have incredible views. On a clear day, you can see all of Grand Haven, Spring Lake, Ferrysburg, and Fruitport. There are benches nearby on a wooden patio overlooking Mulligan's Hollow (a local ski bowl).
Explore a New Park
Riding outdoors might make you want stay outside and take in the scenery of something new. In West Michigan, there are a number of great parks to go birdwatching, stop by a beach, and even just sit and enjoy the greenery. Geocaching is a fun way to spend the afternoon, where you can bike or walk to locations throughout Grand Haven and spot some "buried treasure".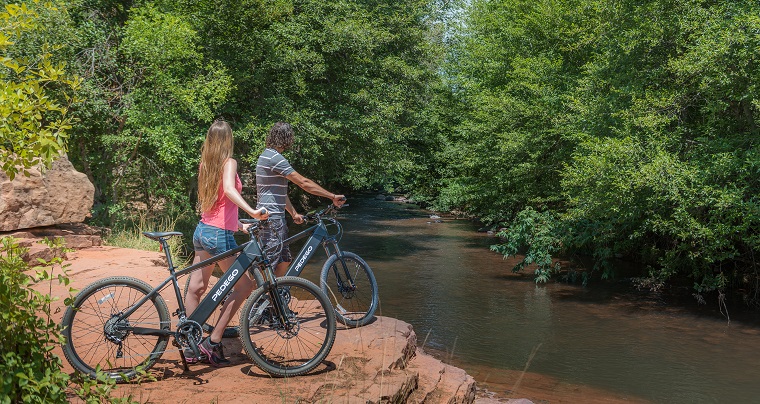 A great afternoon can be spent walking the designated trails of the North Ottawa Dunes. Take a leisurely bike ride from Grand Haven to Ferrysburg, past the North Shore Beach, and you have reach the North Ottawa Dunes. There are eight dunes in the landscape, with some as high as 750 feet.
Resources:
Bike to a Farmer's Market
If you're an early riser or only have time to have a date in the morning, a Farmer's Market is a great way to try new foods and products from local vendors. Perhaps you'll find a new favorite snack!
West Michigan features several farmer's markets throughout the summer. First, is the Grand Haven Farmer's Market, which runs from early May to late October on Wednesdays & Saturdays. Visitors can find this market on Chinook Pier under the green canopy. There are bike racks to park your bike and walk through the stalls. Should you wish to bring a few things home, pannier bags on your bicycle are recommended. Electric bikes rented through Electric Bike Place offer roomy handlebar bags. The market is open 8 a.m. - 1 p.m.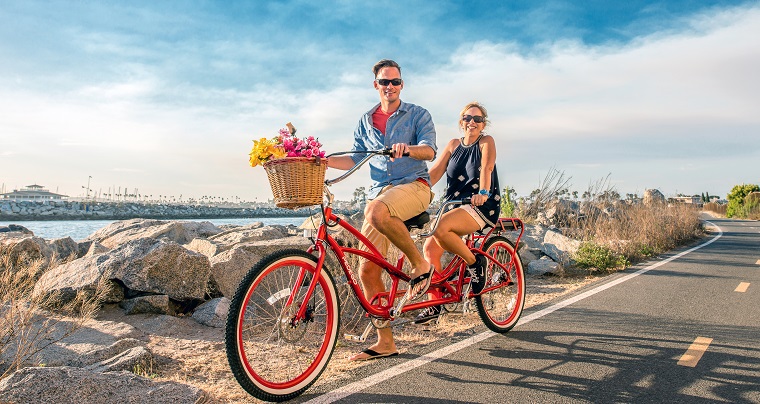 Another farmer's market which is only a skip away is the Spring Lake Farm & Garden Market. Located in the Harvest Bible Chapel parking lot off of Savidge Street, this market runs from June to October on Thursdays. The market is open 9 a.m. - 2 p.m.
Farmer's markets are also available in Muskegon, Holland, and surrounding Grand Rapids areas.
Resources:
Mark Out Your Route
If you use a tracking app like Strava, then it could be a really fun idea to ride a different route and make a fun shape (say, a shape of a heart?). Publish it to your friends on Facebook and show off your bike-riding love! While we could give you a few path recommendations, we believe it is more fun to be able to use your creativity as a couple and map out your own route! However, if you need recommendations of bike paths, we're there to help.
A New Take on Dinner
Dinner dates are often at the same spot. You grab a few drinks, have a great entree, and maybe a dessert. But, why not have several different meals at different restaurants? Grab an appetizer at a local hot spot, bike to a lovely seafood spot, and enjoy dessert at an ice cream joint.
Thankfully, with the help of electric assist on the bikes, it helps power you along when you may have overdone it on the dessert.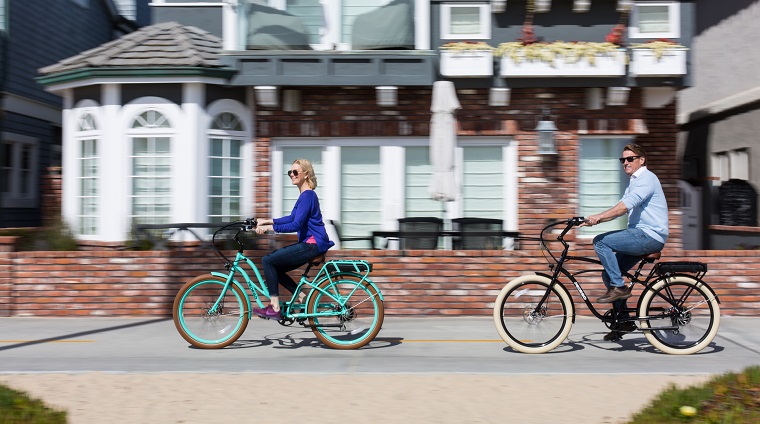 Electric Bike Rentals
Thankfully, you don't have to buy an electric bike to enjoy these unique opportunities. Instead, rent one! Electric Bike Places offers hourly (2 hour minimum), daily, and weekly rentals, so you can enjoy your evening. This golden ticket of transportation is a great way to get around town without having to break a sweat.
Renters will pick up their bikes at MACkite Board Sports Center (16881 Hayes Street). Helmets, locks, and handlebar bags are provided for your journey. Electric bikes will be returned to the same location after completion of the rental.
Ready to ride?

Recent Posts
Bosch is one of the three most common e-bike systems on the market. They're in a majority of the …

Did you know that there are simple tasks you can do to maintain your e-bike's performance? IZIP …

Gazelle sizing breaks down into two categories, Medeo and Ultimate/Arroyo product lines. The …