Gazelle focuses on continuously improving their bikes, from providing selection with varying price points to introducing revolutionary components. This year, Gazelle has added a secondary battery option and introduced several new and updated electric bike models.
Let's go through what's unique to the 2021 Gazelle line this year...
Dual Battery Compatibility
New for 2021 is the availability to add the Bosch PowerPack for the following models:
The Bosch PowerPack 500Wh combines with the included Bosch PowerTube 500Wh battery to give the bikes an impressive 1000Wh capacity. This significantly increases the bike's range, making it perfect for commuters and long-distance riders.
Those interested in the Bosch PowerPack 500Wh will need to order it separately, as they need to be ordered to the store from Gazelle's warehouse. They also need to be mounted by an authorized Gazelle dealer.
When in use, the bike draws power from both batteries. When being stored, the batteries charge at nearly the same rate.
Two New Ultimate Models
2021 debuts two new bike models: Ultimate C8 and Ultimate C380.
Ultimate C8
The Gazelle Ultimate C8 is as slick-looking at the Ultimate T10 with upgraded features. In Gazelle's words, the C8 is a "a feast for the eyes and a delight for the body." We couldn't agree more!
What we love:
The Gates belt drive provides smooth, quiet riding with little maintenance
Shimano BR-MT200 hydraulic disc brakes provides efficient and powerful braking
Low-step frame for comfortable, upright riding
Integrated battery provides stability and frame rigidity
Included with the Ultimate C8 is a suspension seatpost and fork, fenders, rear carrier, front and rear lights, and the improved AXA Defender lock.
Riders are able to choose between Sienna Light Matte and Petrol Matte frame color options. The Bosch PowerPack 500Wh option can be mounted for an additional charge.
Range Specifications:
Maximum Range: 70 miles
Battery: 500Wh
Capacity: 13.4 Ah
Eco Range: 70 miles
Tour Range: 45 miles
Sport Range: 35 miles
Turbo Range: 30 miles
Basic Specifications:
| | |
| --- | --- |
| Frame Shape | Low-step |
| Frame Description | Stable aluminium frame with 70,5° headset angle and 71,5° saddle tube angle for sporty cycling characteristics. Battery, motor and cables harmoniously integrated into the frame. High-quality finish with attention to detail. |
| Frame Material | Aluminum |
| Size (cm) | 46, 53, 57 |
| Weight (lbs.) | 53.8 |
| Battery Type | Li-Ion |
| Top Speed | 20 mph |
| Number of Assist Modes | 4 |
| Walk Assist | Yes |
| Tires | Schwalbe Energizer Plus |
| Engine Model | Bosch Active Line Plus 3.0 (50Nm) |
| Gear System | 8-Speed Shimano Nexus |
Ultimate C380
Similar-looking to the Ultimate C8, the Gazelle Ultimate C380 is an electric bike that focuses on versatility. The model is available in Mallard Blue and Light Olive Matte.
Looking for speed? Gazelle introduced the C380's sibling, the C380+. The C380+ is a Class 3 bike, with a 28mph top speed.
What's unique to the C380 and C380+ is the Enviolo 380 trekking internal gear hub. Shifting is stepless and effortless, making gears adjustable while riding and stationary. Maintenance is virtually non-existent thanks to the elimination fo the derailleur and internal hub.
Just like it's counterpart, the Ultimate C8, the C380 features the Gates Belt Drive.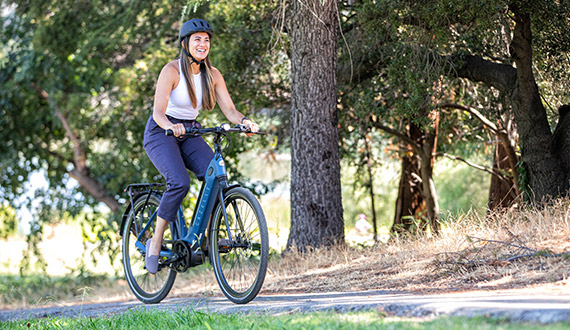 What we love:
Bosch Performance Line motor with 65Nm of torque provides powerful assistance
Shimano BR-MT420 hydraulic disc brakes offer responsive braking
Combination of touring and sporty models creates a comfortable, performance-oriented bike
The Gazelle Ultimate C380 includes fenders, front and seatpost suspension, front light, rear carrier, and the AXA Defender lock.
Range Specifications:
Maximum Range: 70 miles
Battery: 500Wh
Capacity: 13.4 Ah
Eco Range: 70 miles
Tour Range: 45 miles
Sport Range: 35 miles
Turbo Range: 30 miles
Basic Specifications:
| | |
| --- | --- |
| Frame Shape | Low-step |
| Frame Description | Stable aluminium frame with 70,5° headset angle and 71,5° saddle tube angle for sporty cycling characteristics. Battery, motor and cables harmoniously integrated into the frame. High-quality finish with attention to detail. |
| Frame Material | Aluminum |
| Size (cm) | 46, 53, 57 |
| Weight (lbs.) | 54.6 |
| Battery Type | Li-Ion |
| Top Speed | 20 mph |
| Number of Assist Modes | 4 |
| Walk Assist | Yes |
| Tires | Schwalbe Energizer Plus |
| Engine Model | Bosch Performance Line 3.0 (65Nm) |
| Gear System | Enviolo Trekking Manual stepless gear system |
Recent Posts
Magnum folding electric bikes are sleek, compact, and fun! They break down to be transported in …

I want this bike! Do I need to have my bike assembled at a bike shop? Not ever …

Does my bike come fully assembled? What do I need to build my bike? Not every bike is purchas …